Review of Skafos Dubai Friday Brunch | Canopy by Hilton Dubai Al Seef
Are you looking for a restaurant in Dubai that offers the best Friday brunches? Then head to Skafos Restaurant in Al Seef, Dubai.
Al Seef is the place where old Dubai, meets new Dubai. Skafos Dubai restaurant located at Dubai Creek offers an amazing view.
Canopy by Hilton Al Seef Hotel
Canopy by Hilton – organic, lifestyle hotel building community ties with local schools and is bringing a different style to the hospitality sector of Dubai.
Skafos Dubai Restaurant in Al Seef
Skafos is a Mediterranean-style restaurant that brings a different element of elegance over the Dubai Creek, through its detailed analysis of what makes a great brunch.
The restaurant is perched up over the Dubai Creek and can be found hidden away to the left of the Canopy by Hilton hotel, which is actually housed with.
Read More
Locations and Views of Skafos Restaurant
Skafos Dubai restaurant is perched out on the Dubai Creek, this allows you to feel out at sea with the added vantage points to enjoy the sunset whilst sipping a cold, well-deserved drink.
If you are one to enjoy a view whilst having food, this is the restaurant for you!
You look over the rest of the historic Dubai Creek district whilst being next to Al Seef, that caters for all needs through retail and many restaurants day and night.
After the brunch, take a stroll down Al Seef, to take in the beautiful architecture and heritage that Dubai was built from.
Address:
Canopy by Hilton Dubai Al Seef, Al Seef Street, Umm Hurair 1, Dubai Creek
P.O. Box 35449, Dubai, United Arab Emirates.
+971 4 707 7011 / Info.alseef@hilton.com
Al Seef Friday Brunch Packages
Whichever package that you decide to choose for the brunch, you have many options to choose from!
We went for the (Non-Alcoholic) and (Alcoholic) packages and we were not disappointed like we have been with other Dubai brunches! NOT TO BE MISSED! 🙌
Packages are as follows:
Free (Kids aged six and below)
125 AED (6-12 Years old)
195 AED (Non-Alcoholic)
295 AED (House beverages)
350 AED (Premium)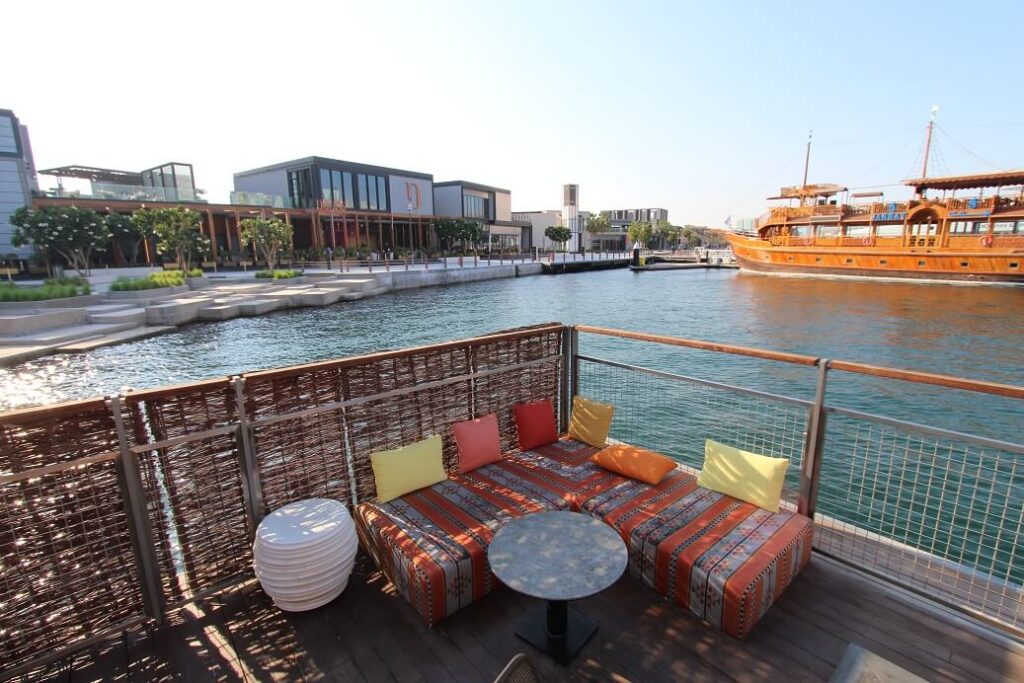 Food & Drink
Fresh catch of the day chosen by the chef himself, Chef Mehdi 👏
Brunch details
Unlimited cold & hot starters
Live BBQ station
Sharing desserts
Chef Mehdi is responsible for the exquisite Paella – we had the pleasure of meeting him and when we asked him what the secret is behind his paella recipe, he told us fresh fish!
He heads to the fish market before sunrise to make sure only the freshest ingredients are used ✨
We can't express enough gratitude to him and his team to the incredible team, for the spectacle that they provide.
A few of our favourite plates that absolutely blew our minds, were the Gambas al Ajillo, Smoked Beef Carpaccio, Tiger Prawns, and not to forget their famous House Paella, there's ample choice for every person.
Entertainment at Skafos Restaurant
@kary.loka was invited to provide the entertainment and she brought with her nothing but good vibes and created a wonderful ambience to compliment a top-class brunch.
The Art exhibition was hosted by @ecoartisthakan, whom is a Teacher of Photography.
He collaborated with @canopyalseef to hold a photography exhibition, displaying incredible work from talented 14 – 18 years old students from @GemsWellington 🤓🇦🇪
We had the pleasure of meeting Mr. Hakan Erkam, who introduced us to some of his star students, who then shared their concepts and ideas behind their photographs 📸
Hakan Erkam, Head of Art and Photography :@ecoartisthakan
Skafos Timings
If you are looking for that PERFECT Friday brunch, then really do head down and enjoy, it is held every Friday from 1 pm – 5 pm and then the rest of the decking opens to sundowners over Dubai Creek.
You will be booking a re-visit within days, we certainly have!
Keeping their clientele safe
With the new policies that restaurants have to follow for the safety of customers and staff, SKAFOS has a very impressive level of safety in place, that makes all the customers feel at ease, they include the Hilton CleanStay procedure, which is an industry-defining standard of cleanliness and disinfection. Temperature checks on all attendees and distanced tables to maintain a safe flow around the restaurant.
This should make you want to visit even more! Please let us know how you get on.
Our Review
As said before, we have been to other brunches in Dubai but Skafos Friday Brunch is Highly Recommended!
Check out our review on Skafos Friday Brunch on TripAdvisor
Asks us if you have any questions about the brunch in Dubai in the comments section below. We would be happy to help you.