Your Complete Guide To Visiting The Dubai Miracle Garden: Tickets, Hours, Opening and Closing Date [2022-23]
Looking for a unique place to go out with your family and friends in Dubai? Head to Dubai Miracle Garden.
In this blog post, I have covered everything about the tourist attraction such as Dubai Miracle Garden ticket price, timings, opening & closing date, and more.
You must be thinking what's the big deal about Dubai Miracle Garden? It is one of the world's largest natural flower gardens built on a space of 72,000 sqm and adorned with 150 million flowers. Opened on Valentine's day in the year 2013 the garden now attracts up to 1.5 million visitors in a year.
Guinness World Records of Miracle Garden
The Dubai Miracle Garden has won 3 Guinness records:
Largest Floral Installation in 2016
Tallest Topiary Art in 2018
World's Largest Topiary Structure in 2019
This is one of the unique places that you won't get to see anywhere in the world. So, if you are going to Dubai make sure that you visit this place to make your trip more memorable.
The garden has a lot of attractions such as Emirates A380, Mickey Mouse, Teddy Bear, and more. Even after so much demand for this attraction, the Dubai Miracle Garden ticket price is kept reasonable.
MUST READ:
Aerial View of Dubai Miracle Garden
Where Is Dubai Miracle Garden Located?
It is located at Al Barsha South 3, Dubailand, Dubai, UAE.
How To Get To Miracle Garden?
You can reach the Dubai Miracle Garden via Metro or Taxi.
By Metro:
If you are travelling by metro you need to get down at the Mall of the Emirates metro station (Red Line) and from there you can either take a bus or cab which goes from the MOE to the garden in 20 – 30 minutes.
By Taxi:
You can take a taxi from your place to the miracle garden directly or you can get down to the Mall of the Emirates and take a bus from there.
Dubai Miracle Garden Opening and Closing Date
For the past few years, the Dubai Miracle Garden is opening its gate on the 1st of November for the public and hopefully even this year the garden will open its gate for visitors on the 1st of November, 2022 and the last day of operation was on May 31, 2023.
Dubai Miracle Garden Ticket Price for 2022
Dubai Miracle Garden ticket price for adults (12 years old above) is 55 AED and for children (12 years old and below) is 40 AED. However, kids under 3 years old and disabled can go free of cost.
Where To Buy Dubai Miracle Garden Ticket?
You can buy the Dubai Miracle garden ticket directly at the gates ticket counter or online from Klook.com or GetYourGuide.com.
Dubai Miracle Garden Timing
The Dubai MIracle Gaden timing is from 9 am to 9 pm on weekdays and 9 am to 11 pm on weekends.
The best time to visit the garden is early in the morning before 12:30 pm and at the end of the day because it is too hot between 11:30 am to 3:30 pm during summer season.
Weekdays: 9 AM to 9 PM and
Weekends: 9 AM to 11 PM ( Friday and Saturday)
Popular Attractions in Miracle Garden
There are many attractions to see in the garden but I have listed the best of them which you should definitely see during your visit.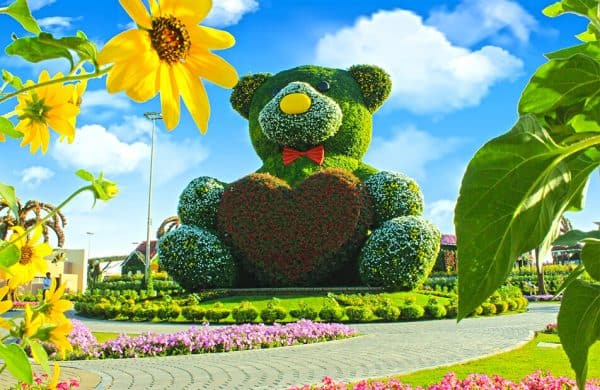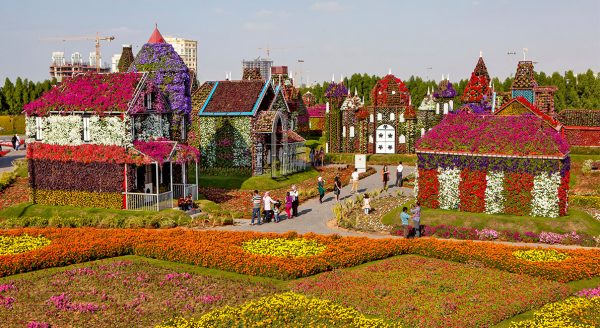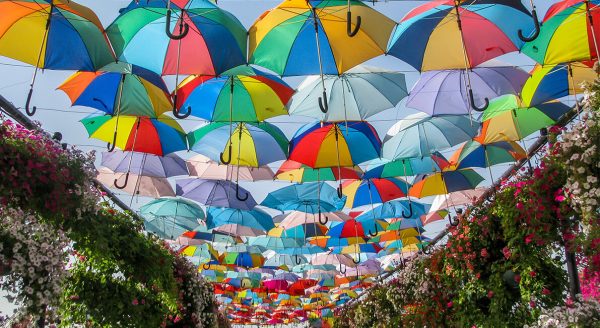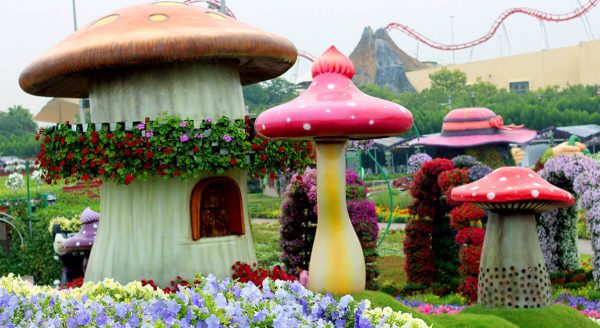 Emirates Dubai Miracle Garden
Emirates Dubai Miracle Garden constructed the largest flower installation in the world. It's an actual-sized replica that is the Emirates A380, covered in more than 500,000 flowers and live plants. In full bloom, the structure of the aircraft has an unbeatable number of stems of 5 million blooms and weighs more than 100 tons.
The flowers and plants that were used to create the "living" Emirates A380 installation were sustainably planted as well as harvested during a 4-month duration in Dubai Miracle Garden nurseries in the UAE. The A380 installation consists of seven different varieties of flowers. These include Petunia, Coleus (Plectranthus scutellarioides), Marigold (Tagetes), Snapdragon (Antirrhinum), Viola Geranium (Pelargonium) and Gaillardia (Gaillardia aristata). A mix of more than 9000 flowers and plants formed the Emirates iconic logo. 100,000 blooms adorned the massive wings that are 80.27 meters wide.
Over 200 installation workers dedicatedly worked for 10 hours a day for 180 days to construct layers and then mount the lush foliage on the 30 tonnes of a steel structure that is the Emirates A380. The structure of the aircraft even has moving engine fans as well as other design elements that recreate the essence of the original design of the aircraft.
It is the largest structure ever built in the garden. It is set in the flowerbed that covers 7,460 square meters, which is roughly 10 percent of Dubai Miracle Garden.
Other Attractions
Dubai Miracle Garden will also present a new 3D clock, a floating rock' featuring floral peacocks, a fountain and two floral displays based on the characters of children's books such as a 'Genie,' which measures almost 15 meters in height and a 'flying carpet.'
These new attractions are in addition to the Garden's existing suite of floral displays: such as the green sculpted Emirates A380 that made it into the Guinness Book of Records, ballet dancers, an amphitheatre-cum-observatory that hosts live performances, a scintillating 'Floral Castle' and much more.
Dubai Miracle Garden Tour
If you want to avoid the hassle of visiting this place, I would suggest you book the Dubai Miracle Garden tour which will include:
Pick-up and drop off facility from your hotel
Entrance to Miracle Garden
Entrance to Butterfly Garden
Let me know if you have any questions about the Dubai Miracle Garden. I would be happy to answer and help you.
Smurfs Themed Attraction in 2022
Dubai Miracle Garden welcomes visitors to celebrate its 10th anniversary featuring The Smurfs-themed attractions. The multi-award-winning Dubai attraction has been upgraded with an array of fresh arrangements and floral displays that will bring joy to all the family members.
The main attraction in Dubai Miracle Garden's latest additions is the list of stunning floral displays inspired by The Smurfs, a children's-favourite comic and animation series.
A specially-designed 'Smurf Village attraction Area is set to host the most significant number of mushroom houses in the world. At night, these will be lit up with special lighting effects.
The area will also feature Smurf Topiaries with massive green structures that are decorated with colourful flowers.
The Central Plaza within the vicinity will be welcoming visitors to view their favourite Smurf character interact with the beauty of the garden with exciting poses.