Our first stay at the magnificent Rixos Premium Saadiyat Island in Abu Dhabi
Are you planning to stay at Rixos Premium Saadiyat Island and looking for a detailed review of the island? Then your search ends here. In this blog post, I am going to share a details review of our stay at the Rixos Premium Saadiyat Island in Abu Dhabi.
RIXOS PREMIUM SAADIYAT ISLAND LOCATION
Saadiyat Island is fast becoming a hot spot for amazing hotels, beach clubs, golf courses and the long blue flag beach. It is only 40 minutes away from Dubai and 15 minutes from the heart of Abu Dhabi, which makes it the perfect spot to get away from city life and enjoy the 5-star resort.
The gold standard of beaches around the world 'Blue Flag organisation' recognise Saadiyat beach as one of the best in the world, you can totally understand that when you walk the 10km route. The beautiful beach glimmers with incredible sunsets and the sand is just so soft ☀️
This desirable five-star resort has many eateries that if you decide to try a new area, then you have many options. We tried a number of them and we were impressed with all of them.
The Rixos Premium Saadiyat Island Resort is the ideal destination for memorable family getaways or staycations 💛
Abu Dhabi is the capital of the United Arab Emirates and it is very spread out over the large area, this makes it a much more relaxed city than the hustle and bustle of Dubai. Abu Dhabi has many incredible places to visit, but here are some of the best ones that we have visited and highly recommend:
Sheikh Zayed Grand Mosque
Louvre Abu Dhabi Art Museum
Emirates Palace
Yas Marina Circuit (Where the F1 is held)
Warner Bros. World and Ferrari World
PRICE
The Rixos Premium Saadiyat Island is really one of the most incredible hotels in the United Arab Emirates and this means that you are paying for pure luxury when staying there.
Our room that we stayed in for two nights was the Premium King Room with Pool Access. This specific room has a rate that starts at 4800aed a night (minimum booking of two nights and all-inclusive).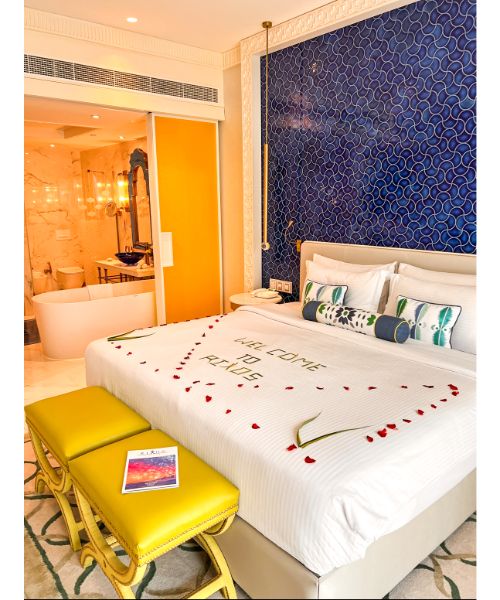 Other prices that complement the different rooms:
Deluxe King Room, Garden View
Deluxe King Room, Sea View
1 Bedroom Family Suite
2 Bedroom Family Suite
3 Bedroom Executive Villa
4 Bedroom Executive Villa
READ MORE BLOGS
FACILITIES
10km Saadiyat Beach
On the beach, you can also find a beach bar with the perfect spot to relax with a cocktail and watch the sun start to set over the Arabian Gulf.
If you are looking to rent a paddleboard and float on the sea, this is a great spot to rent from and enjoy the peacefulness of Saadiyat Island.
We both had been paddle boarding before but never together, this was the perfect opportunity to experience it together, whilst also being part of a very small group with a fun instructor. We had booked on to the 9 am booking, as this was the perfect temperature to get an hour in before the afternoon sun started to heat up.
SPA AND LEISURE FACILITIES
Prior to booking our stay at the resort, we had heard great things about the high standard of facilities from a number of people and we were extremely amazed! They had spoken about how the spa was the best that they had ever visited and we completely agree. They spoke about how the gym had absolutely everything that you needed and more, we completely agree.
They said that the Rixos Premium Saadiyat Island resort had the best facilities that they had ever used and we completely agree that they are the best that we've ever used, based on our previous experiences of spa and leisure facilities around the UAE and the world.
There is a very large central outdoor swimming pool, that is surrounded by restaurants, bars and space for children to play. We only spent an afternoon there, just due to wanting to spend more time down at the beach which is voted a 'Blue Flag beach', which puts it up there as one of the best in the world.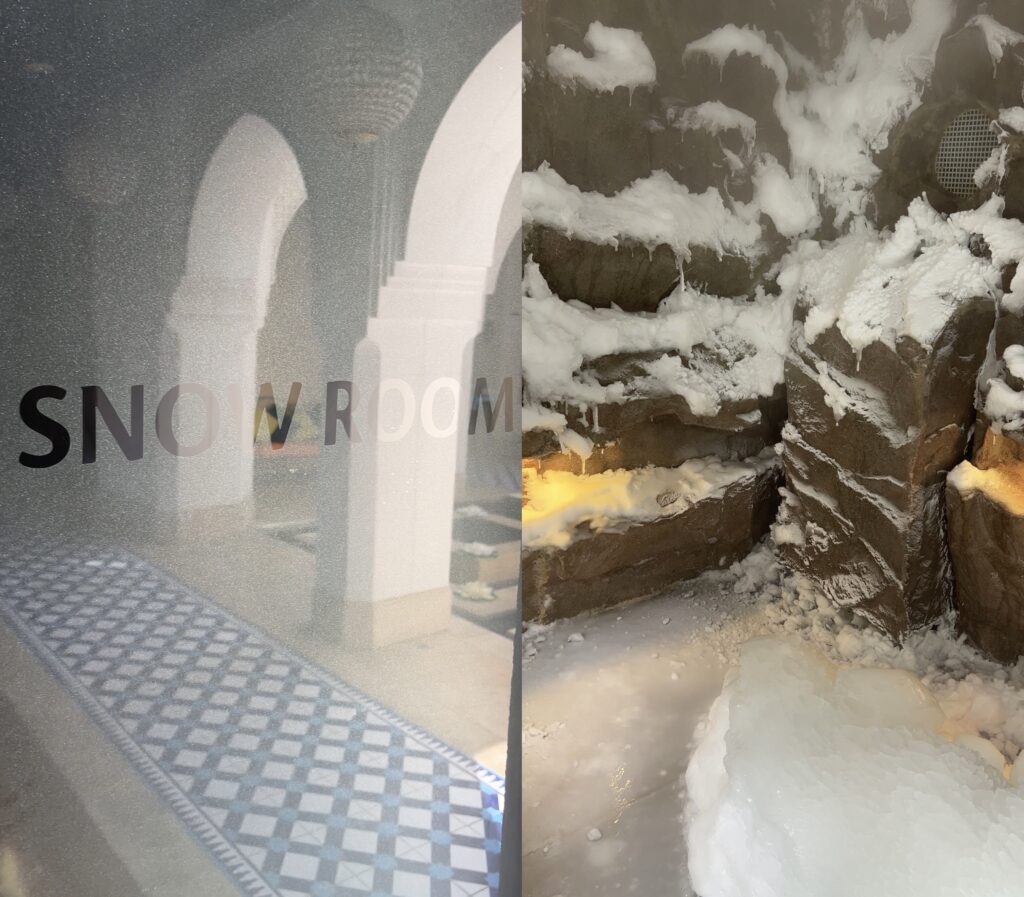 If you are looking for a little extra, the resort has a nearby golf course and multiple tennis courts.
Every morning stay needs to include a trip to the Exclusive Fitness Club and the Anjana Spa. The Anjana Spa was on a grand scale, with two huge separate areas for males and females.
The facilities include a Hammam, Jacuzzi, Whirlpool, Sauna, Steam room, Massage rooms and a SNOW ROOM, yes you heard me correctly!
With our room being a Premium King Room with pool access, we were extremely fortunate to share a private pool with the other 6 rooms that backed onto it, but there was never anyone else in it throughout our stay.
RESTAURANTS
Turquoise – All day dining restaurant
People's – Casual dining concept with beach views
Mermaid – Mediterranean and Greek seafood beachside restaurant
L'Olivio – Italian A La Carte restaurant
Orient – Turkish and Oriental heritage restaurant with rooftop views
Aja Asian & Teppanyaki – Live experience with live entertainment
Club House – Exclusive restaurant for villa guests with international cuisine
We dined at a few of the restaurants on the list above and were always impressed with the highly accomplished waiter service and the continued quality of food at every restaurant.
MERMAID RESTAURANT
With us staying at the resort during Ramadan, we had our Iftar at this restaurant and it definitely filled us up which very rarely happens.
We were treated to an incredibly romantic meal with candlelight with the sound of the waves from the beach. We really enjoyed our meal here and the BBQ king prawns that we ordered were absolutely amazing. Anya even said that she would return back to the resort just for those!
DRINKS IN THE LOBBY COURTYARD
Social media is a great way to research stays beforehand and that's exactly what we did. The main spot that the resort has featured is the beautifully decorated Lobby Courtyard. We met some friends here and it was just the perfect spot to relax, unwind and listen to the beautiful songs from the live band.
BREAKFAST AT THE TURQUOISE RESTAURANT
We literally had so much to choose from whenever we dined at this restaurant. With us having the opportunity to dine for breakfast every day here and then also for lunch, we must have tried every single area. The food was always top quality, which you don't always expect from a buffet but the Rixos Premium Saadiyat Island management has absolutely nailed this.
SUNDOWNER COCKTAILS AT THE ORIENT BAR
This has to be one of the most beautiful spots at the resort to enjoy a cold cocktail watching the sunset in the distance. We could have sat here forever and enjoyed this moment!
DINNER AT THE AJA RESTAURANT WITH A PRIVATE TEPPANYAKI EXPERIENCE
We have been to a number of Teppanyaki spots in the UAE and this one definitely tops our previous experiences. The chef was a top performer that has us both amazed at his skills with a spatula and some eggs.
This has to be a standout booking at the hotel and would definitely need to be booked prior to the day, there is limited seating at the designated tables.
OUR WEEKEND PLANS
Friday
4 pm – Arrival and check-in
7:30 pm – Dinner at the Mermaid Restaurant
9:00 pm – Late night drinks at the lobby courtyard
Saturday
Breakfast at Turquoise restaurant
Beach Paddle Boarding
Lunch at the Turquoise restaurant
Sundowner cocktails/mocktails at the Orient Bar
Dinner at the Aja restaurant with a Private Teppanyaki Experience
Sunday
Breakfast at the Turquoise restaurant
OUR ROOM
This was our first time staying in the Premium King Room with Pool Access at the Rixos Premium Saadiyat Island Resort and what an absolutely incredible room it was! As soon as we opened the door and walked in to the room, we couldn't contain our amazement of the quality of each detail.
The room allows you to wake up and jump directly into the pool, which for us was incredible. Whilst one of us was still sleeping, the other was able to relax on a sun lounger and swim some lengths to start every day off perfectly.
The Premium King Room came with many amenities that you wouldn't necessarily expect. A few of the best amenities were:
Wifi
King size bed
Iron & ironing board upon request
Tea/coffee making facilities + fridge
Daily housekeeping service
Hairdryer
Walk-in shower
Bathtub with rollback room separator
Private pool
SAADIYAT BEACH
Abu Dhabi has no shortage of lovely beaches, with the climate of the emirate ensuring that pretty much any time of year is perfect for a beach visit due to the year-round sunshine and the cleanliness of the beach. A pristine beach in one of the most beloved areas of the capital.
Saadiyat Beach and the island at large is filled with native wildlife. One of the best things to do at Saadiyat Island is visiting the Hawksbill Turtles' hatching site. And if you're lucky, you may also spot dolphins playing in the bay, which our friends have seen on a number of occasions.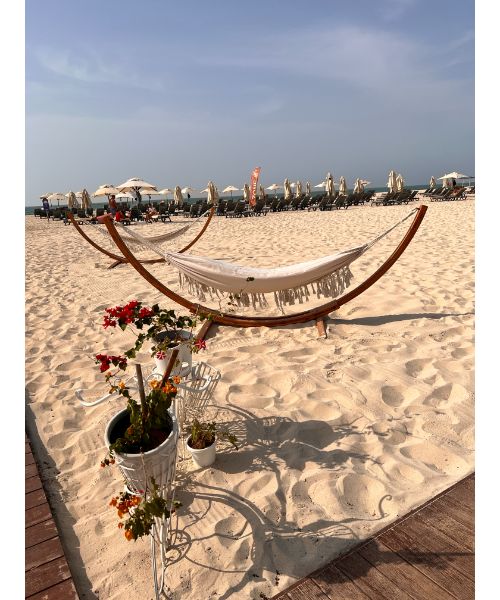 Local authorities are dedicated in their efforts to conserve the natural resources on the island, which is why there is an elevated boardwalk from where visitors can see the turtles without disturbing them.
TIME TO GET PLACES
Abu Dhabi Airport (27 minutes)
Reem Island (19 minutes)
Abu Dhabi Corniche (19 minutes)
DXB airport (1 hr 17 minutes)
Dubai Marina (1 hr 2 minutes)
Downtown Dubai (1 hour 11 minutes)
We live in Downtown Dubai and it took us just over an hour and 10 minutes with very little traffic, but make sure that you factor in that there may be traffic on the Sheikh Zayed road. The drive was very easy and once out of Dubai, it was one straight road to the resort. When we arrived, we were welcomed by the hospitable staff that helped us with our luggage and made the check-in, extremely stress-free and enjoyable.
If you are looking for a resort stay in Abu Dhabi with absolutely everything, then we highly recommend you book a stay at the Rixos Premium Saadiyat Island and take advantage of all the quality facilities.