At the Top of Burj Khalifa Ticket Price, Timing, Offers and More
In this blog post, I am going to share all the information you need to know before visiting the Burj Khalifa observation deck such as how to reach, Burj Khalifa ticket price, timings, offers, and tips on how to book Burj Khalifa Ticket at the cheapest price.
If you don't know let me tell you that it is one of the tallest buildings in the world with a height of 828 meters, 163 floors, 57 elevators, and the Burj Khalifa observation deck is on the 124th, 125th, and 148th floor of the building.
And, it is not wrong to say that your trip to Dubai is incomplete without visiting Burj Khalifa.
1) Burj Khalifa Ticket Price And Timings
The Burj Khalifa ticket price depends on the observation deck you choose and the time you plan to visit.
Did you know that after the covid_19 pandemic, Burj Khalifa entry fee was slashed drastically from AED 117 ($31.52) to AED 57 ($15.52) for kids during non-prime hours and AED 99 ($27) for adults which is almost 50% off?
If you were thinking of visiting "At The Top" of Burj Khalifa or wanted to visit in the past but could not because of the high ticket price then that was the best opportunity for you. I don't think so that you will get that kind of offer on Burj Khalifa tickets ever again.
However, they have changed the Burj Khalifa ticket price again and it is AED 149 for non-prime hours and AED 224 for prime -hours.
Below is the detailed information about the Burj Khalifa ticket price in Indian Rupees and Dirham:
Burj Khalifa Ticket Price Online

Ticket Type

At The Top
[124 and 125 Floor]

At The Top Sky
[148th Floor]

Prime Hours

16:00 to 18:00

9:30 to 18:00

Adult (12+ years)

AED 224 / INR 4518

AED 533 / INR 10751

Child (4 – 12 years)

AED 132 / INR 2662

AED 533 / INR 10751

Infant (Below 4 years)

Free

Free

Non-Prime Hours

9:00 to 15:30 & 18:30

19:00 until closing

Adult (12+ years)

AED 149 / INR 3000

AED 378 / INR 7625

Child (4 – 12 years)

AED 114 / INR 2300

AED 378 / INR 7625

Infant (Below 4 years)

Free

Free
Must Read For You:
2) Where To Buy Burj Khalifa Tickets?
You can buy Burj Khalifa tickets Online and Offline.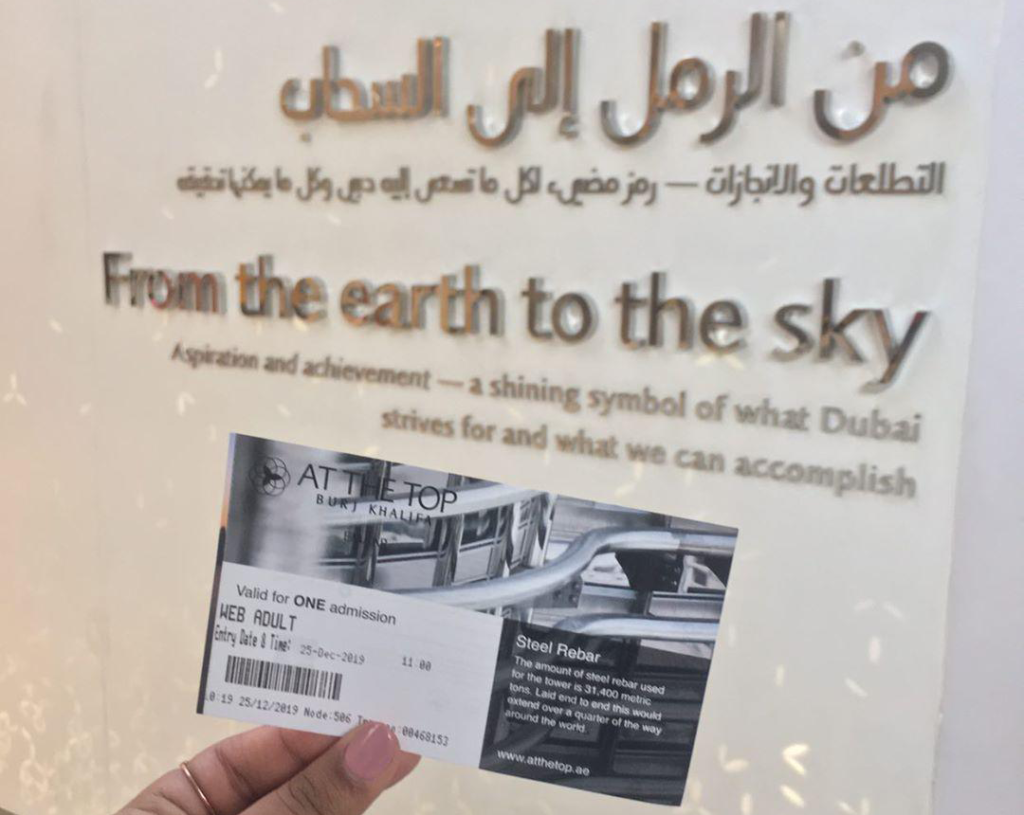 At the Counter of Dubai Mall
You can buy the Burj Khalifa tickets offline from the entrance counter of the Dubai Mall which is on the lower ground. The cost of Burh Khalifa tickets purchased offline is 4 times more as compared to online tickets and is limited in numbers.
Buy Burj Khalifa Tickets Online
If you are looking for Burj Khalifa tickets deals and want to save money buy them from websites such as Klook.com and Getyourguide.com as they are authorized resellers. You can also buy it from the official website of Burj Khalifa but that is more expensive as they don't offer discounts.
The benefit of booking Burj Khalifa tickets online is that they keep running offers and you can get tickets at the best rate possible.
If you don't have any budget issues, I would recommend you to purchase skip the line tickets as it will save your time by avoiding the long queue and take directly to the elevator entrance.
3) How To Get Burj Khalifa Tickets at a Cheap Rate?
You can get the best offers on Burj Khalifa tickets online. I know going online and comparing websites before buying Burj Khalifa ticket prices is time-consuming. That is the reason, I have done all this work for you and listed some of the best offers.
4) Best Offers on Burj Khalifa Tickets
Here are some of the best offers on Burj Khalifa tickets online which you can avail yourself during your trip:
5) Best Time To Visit Burj Khalifa
The best time to visit Burj Khalifa is prime hours as it gives you an opportunity to see the sunset from the world's tallest tower.
That is the reason the rate of the Burj Khalifa ticket price is also high during prime hours as compared to non-prime hours.
If you are low on a budget then the best time for you is to visit during non-prime hours because even at that time you can have a spectacular view of the city. Another positive of going at this time is that there is less rush as compared to prime hours.
If you are still, confused on which time you should go? Here is a visual glimpse of how the city looks before and after sunset.
View from Burj Khalifa During Prime Hours and Non-Prime Hours
6) How To Reach Burj Khalifa?
You can reach the Burj Khalifa from your hotel via Metro or Taxi.
Metro
If you are travelling by metro you need to get down at Dubai Mall/Burj Khalifa metro station. From the station, Burj Khalifa is around a 15 to 20 minutes walk.
Taxi
If you don't prefer walking you can take a taxi from your hotel and ask the driver to drop you at the entrance of the Dubai Mall.
After reaching the entrance, just follow the signboard "At The Top – Burj Khalifa" or you can take staff help who are present at the time.
7) Where Is Burj Khalifa Located In Dubai?
It is located at 1 Sheikh Mohammed Bin Rashid Boulevard, Downtown Dubai, Dubai, United Arab Emirates
8) How Long One Can Stay At The Top?
If you have purchased the "At the Top, Burj Khalifa SKY" ticket you can stay at level 148 up to 30 minutes and then move to levels 124 and 125, where you can stay as long as you want.
I hope my blog post helped you answer all your questions about the Burj Khalifa. Let me know if you still have any questions.
( Photo Credit: https://www.burjkhalifa.ae )