Best Desert Safari in Dubai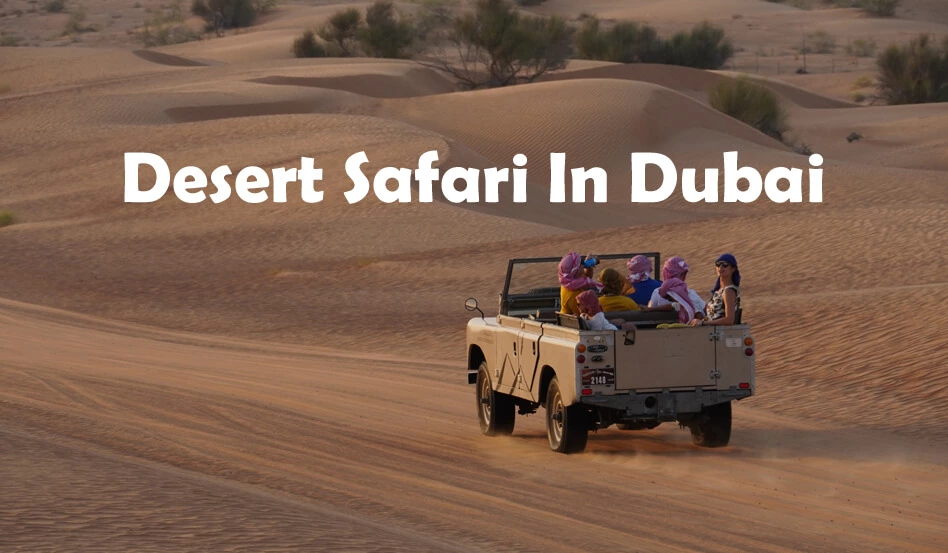 If you are new to the city and looking for adventurous activities to do then Desert Safari is one of the most exciting things to do in Dubai.
With so many desert safari operators in Dubai, it becomes very difficult to choose the best desert safari in Dubai.
That is the reason, I have decided to write the blog post on the best desert safari in Dubai with all the important information which you should know before choosing the desert safari tour such as price, timings, activities, offers, and more.
Apart from this, there are other popular attractions in Dubai which you should visit such as At the top of Burj Khalifa, Dubai Miracle Garden, Global Village, Ski Dubai, Dubai Frame, Gold Souk in Deira, and more.
Why Desert Safari
Whether you are a local or tourist, Desert Safari is a must-do activity in Dubai for adventure lovers.
During the trip, you get to explore and experience traditional activities of desert life such as camel riding, dinner, entertainment, dune bashing, henna painting, and more.
It gives you an opportunity to witness amazing views of the desert during the morning, sunset, and enjoy belly dancing under the stars with a delicious BBQ dinner, soft drinks, shisha, and more.
All the desert safari tour operator offers pick-up and drop-off facilities to its guest which makes travelling easy and fun with amazing activities to do.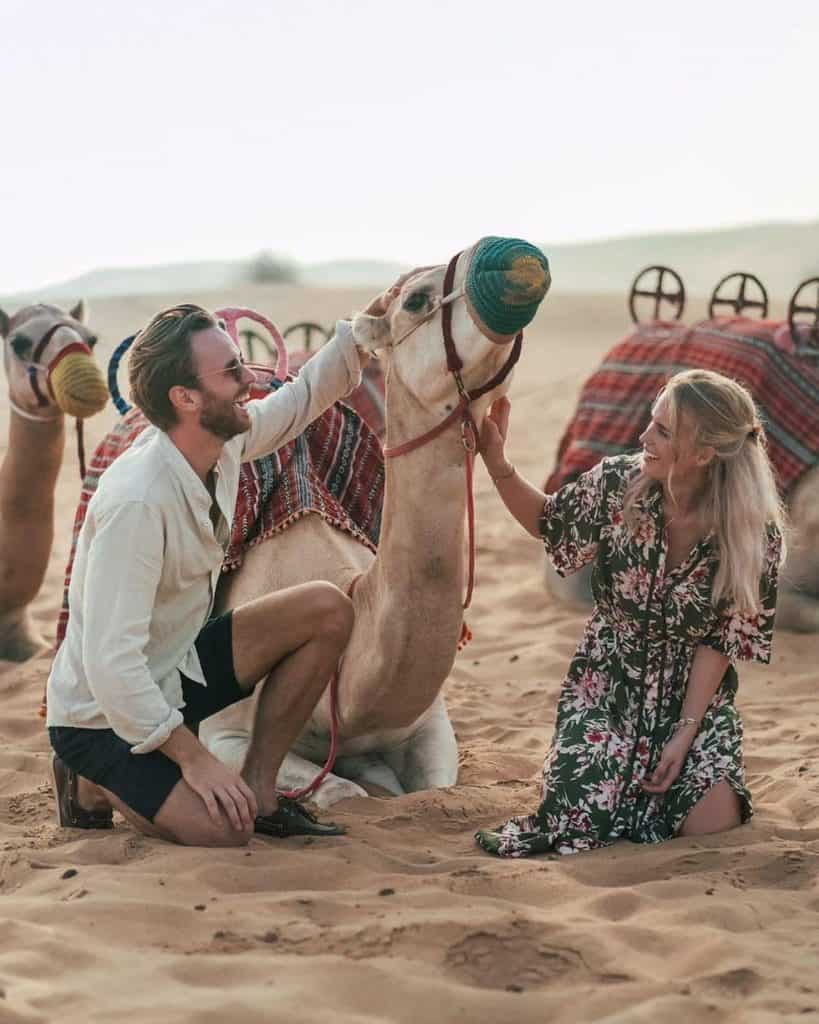 Best Desert Safari In Dubai
There are different types of desert safari are available to choose from. You can choose the one which you want to experience according to your availability and budget. But, I have listed the 3 desert safaris in Dubai which you must experience.
Type of Desert Safari in Dubai
Morning Desert Safari
Evening Desert Safari
Premium Desert Safari
Overnight Desert Safari
Arabian Desert Safari
Dubai Falconry Safari
Camel Desert Safari
Hummer Desert Safari
Dune Desert Safari
Hot-Air Balloon Desert Safari
4×4 Desert Safari
Morning Desert Safari in Dubai
If you are a morning person then go to Morning Desert Safari. This option is good for those who are in Dubai for a short trip or have a meeting, party or planning to visit another place in the evening.
When you book a desert safari, a car from the tour operator will come to pick you. 
Once you reach the desert, you can enjoy your time by indulging in activities like dune bashing, camel ride, dune buggy, sandboarding, and more.
During your trip, you are offered soft drinks and water on a complimentary basis.
What's included:
Pick up and drop off from your designated location or hotels within Dubai
4 hours desert tour
English-speaking safari guide
Dune bashing
Sandboarding
Desert photography opportunity
Camel farm visit
Breakfast
Falcon show
Camel ride
Traditional Arabic coffee
Evening Desert Safari in Dubai
A must for everyone who visits with family and friends. Believe me, going on a desert safari in the evening will be one of the most favourite memorable moments of your trip because it offers an amazing opportunity to view the beauty of the desert with lots of other activities.
Like morning desert safari, a car comes up to pick you from the hotel and takes you to the desert.
During your trip, you get to experience an amazing dune drive with the group. While going to your camp halts are taken to take photographs and enjoy an amazing view of the sunset
The fun begins when you reach the campsite with lots of amazing activities to do such as camel ride, sand boarding, henna design, and more.
Once you are done with fun activities, you can enjoy a barbecue dinner in the desert under the stars, shisha, Tanura dance, and a fire show.
If you want to enjoy your tour to the fullest, I would recommend planning your tour with friends and family.
Because if you have 6 number of people interested in the tour then you are offered a separate car for your group.
However, don't forget to take your camera with you as the views are absolutely stunning and mesmerizing.
What's included:
Pick-up and drop off from the hotel
Sand dune bashing
Henna painting
Camel ride
Shisha pipe
Tanoura dance show, belly dance show (not on major Islamic holidays)
Unlimited water and soft drinks in the camp
Barbecue dinner
Premium Evening Desert Safari in Dubai
If you want to enjoy and feel the magic of the desert in Dubai then go to a premium evening desert safari and have fun in the red sands of the Arabian desert. 
Start your tour with transit from your hotel to the desert and once you reach the point, you can start the activities such as dune bashing.
It is fun to climb the highest runs and rush down them with all the thrilling spectacle of a desert warrior of the movies.
You can also go surfing or sandboarding in the desert. While doing these activities don't forget to take photographs of this beautiful spot.
This tour also gives you the option to experience traditional Arabic coffee and dates, shisha smoking, bbq dinner, and henna painting.
You can go for a camel ride, try a traditional Arabian outfit, and take a photograph yourself in the outfit with a falcon on your arm! 
Enjoy a delicious and lavish buffet dinner with lip-smacking barbecue as you watch Tanura dance and belly dance.
What's included:
Pick up and drop off from your hotels within Dubai
7-hour desert tour
English speaking safari guide
Extreme high dune bashing for 30-40 minutes
Sandboarding
Welcome drinks
Arabic coffee and tea
Henna painting
Camel ride
Sunset photo stop
Shisha
Falcon photos
Tanoura & belly dancing show
Snacks and unlimited water and soft drinks
BBQ Dinner (open buffet with vegetarian and non-vegetarian options)
Separate bathroom facilities for ladies and gents
Cold mineral water in the vehicle during the transfer
Not included:
Gratuities (optional)
Alcoholic beverages
Quad bike, dune buggy at a desert
Cost of Desert Safari in Dubai
The cost of the desert safari in Dubai depends on the package you choose. The starting price of the desert safari tour is $48 (INR 3500) and goes up according to the package you choose.
Tip: If you want to get the best price on a desert safari in Dubai book the tour in advance.
Desert Safari Tour Timings
Desert Safari in Dubai is available at different times such as morning, evening, and overnight.
But the best time to go for a desert safari is any time after 3 pm and that is the reason I recommend going on to a desert safari in the evening or for an overnight tour.
What to Wear?
Wear comfortable clothes so that you can enjoy the activities without any hesitation.
If you are planning to visit desert safari in Dubai and looking for offers, do let me know I would be happy to get you the best deal.
Should I take kids with me on a tour?
It is better if you avoid taking kids under 3 years, pregnant women, and senior adults with you.
I hope you like this blog on the best desert safari in Dubai. If you have any questions do share it in the comments section below.