5 Best Beaches In Dubai
Dubai has long been known for its luxury travel destination status and best beaches in Dubai. Its glitz and glam attract tourists from around the world year in year out.
But as well as its high fashion, fine dining, and impressive cityscape, Dubai's beaches are amongst the best. Dubai's beaches are made up of what seems like endless strips of fine white sand that kiss the inviting warm aqua-blue waters of the Persian Gulf, making Dubai a luxury beach resort destination on top of everything else.
Know everything about the 5 best beaches in Dubai.
1. Jumeirah Beach Residence Open Beach
Jumeirah Beach Residence AKA JBR Beach or Open Beach is one of the best beaches in Dubai. It's also the emirate's biggest beach.
Extending the entire length of the Jumeirah Beach Residence area, most of the vast beach is wide open to the public, making it a go-to beach for everyone.
Bars, cafes, bistros, high-end restaurants, and luxury boutiques line the shore of what can only be described as a fashion-forward beach. The beckoning waters of the Arabian Gulf juxtapose the glittering and soaring skyscrapers opposite.
Even an upward glance will leave you in awe as Skydive Dubai's landing area is located just off the main strip of the beach, so beachgoers will also be treated to creative aerobatics shows all day long.
Oh, and did we mention a Ferris Wheel? It doesn't get more Dubai than this!
Be sure to check out the original Sand Dollar Swimwear Fashion Boutique for all the latest styles and must-have beach necessities for the whole family. Located just 10 minutes away at Fairmont, The Palm
2. La Mer Beach, Dubai
La Mer beach is not just one of the most instagrammable beach and best beaches in Dubai.
Just a stone's throw away from DBR Open Beach in Dubai is La Mer – a fancy upmarket seafront neighbourhood.
This exclusive neighbourhood has something for everyone, including family fun-filled activities like Splash Park and an inflatable playground.
La Mer beach and neighbourhood boast serious street vibes and food, making it a haven for foodies.
The beach is free, but if you get the chance to rent a cabana, you'll be able to spend the day relaxing, swimming, or trying your hand at the range of water sports that include surfing and paddleboarding.
Whether you forgot your sunnies or need a fresh 'shopping to sundowners' look, check out the newest Sand Dollar Women's Fashion Boutique at Mercato Mall, just 5 minutes away.
3. Jumeirah Beach Park
How can we miss Jumeirah Beach Park when we are talking about the best beaches in Dubai.
Not to be confused with Jumeirah Beach Residence Open Beach, this is a beautiful beachfront park and beach with green terraced picnic and play areas.
This beautiful narrow beach's palm-lined sidewalks and park make this a popular beach in Dubai for families.
There is a nominal admission fee, but it's 100% worth it for the extensive facilities on offer, which includes showers, changing areas, and lockers. Not to mention, this is where most of those viral IG snaps of the Burj Al Arab are taken.
Located on the popular Jumeirah Beach Road means there are plenty of things to do and see in the surrounding area from shopping to fine dining.

If the kids' outgrew their swimsuits from last year, or you need to restock on suntan lotion – the largest Sand Dollar Beach Store is located just minutes away at Jumeirah Al Naseem.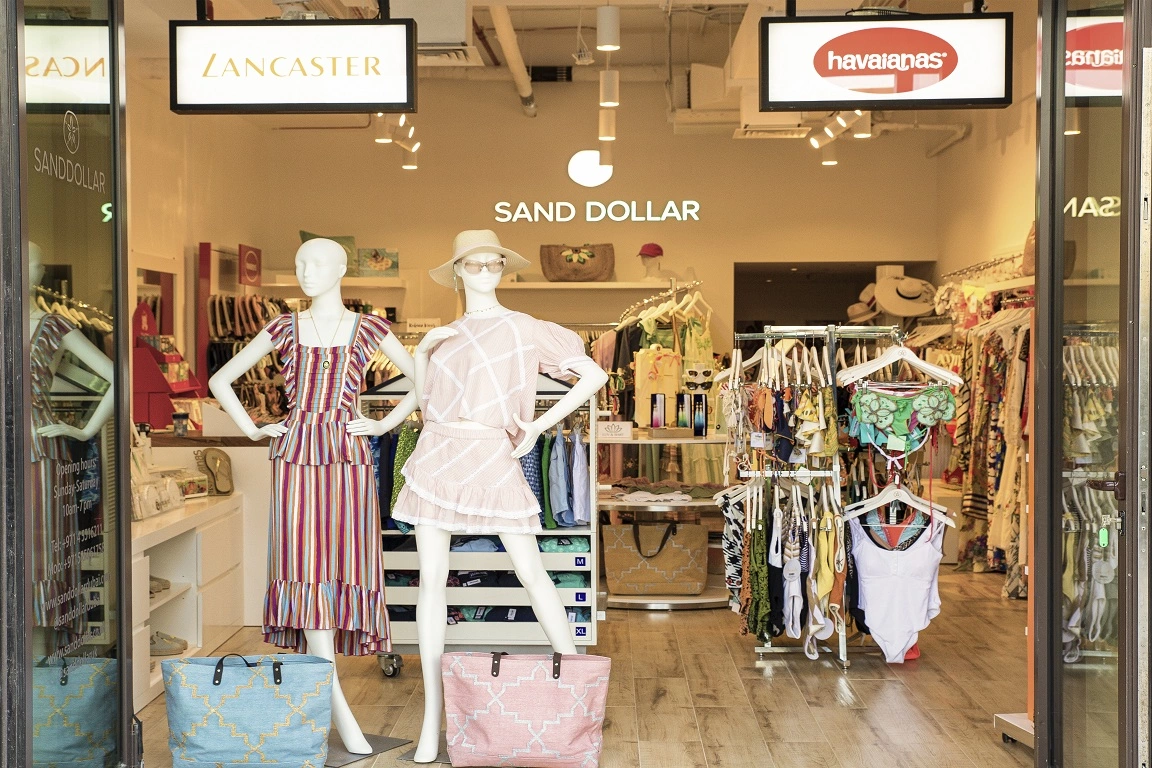 4. Drift Beach Dubai
For an understated chic beach experience away from people, Drift Beach Dubai, which is connected to Royal Mirage hotel, offers tranquillity. With its first-class amenities and luxury experience, this private Dubai beach is worth visiting if privacy and first-class service.
With private beach cabanas, infinity pools, and exquisite restaurants and bars serving Mediterranean-inspired food and drinks, this is a private beach in Dubai you want to be seen at. Here, you'll be able to do alfresco the right way.
Come evening, the ambience changes, and you're transported to Ibiza with cool tunes and a laidback party vibe.
5. Beach by FIVE, Dubai
Beach by FIVE is a small (only 150 m) private beach that caters to people looking for that personal touch.
From private cabanas with double-width sun loungers to Jacuzzis to glass-lined infinity pools, this is an Instagrammer's dream. Not only is this one of the most Instagrammable places in Dubai, but it's also a foodie's dream come true.
For a fine dining experience with a modern twist, head to the beach deck, where you'll be able to sample delectable tapas dishes, and amazing cocktails.