SWISSOTEL AL MUROOJ Dubai HOTEL – A resort that has everything you need in Downtown Dubai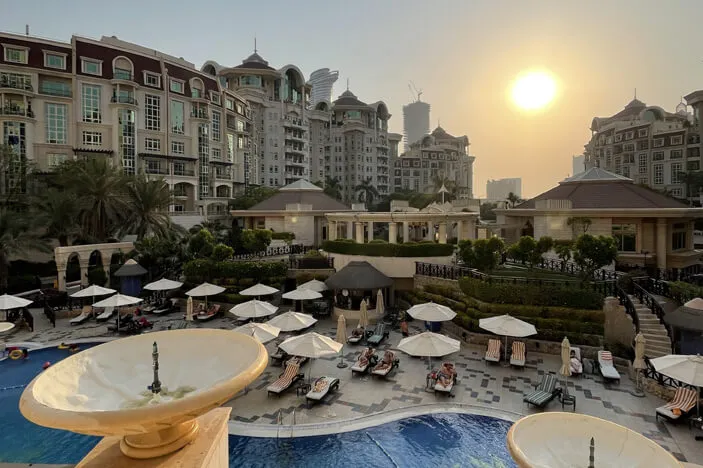 In this blog post, we are going to share our experience of staying in one of the best 5-star hotels in downtown Dubai – Swissotel Al Murooj hotel in Downtown Dubai.
Over the past 70 years, Dubai has been changing the landscape at such a rapid rate, that it has now become a metropolis of skyscrapers and world-class facilities on every corner.
With its bold architecture and audacious style, the United Arab Emirates' largest city is a distinct fusion of its Bedouin heritage and an ultramodern style that makes it unlike any other city on the planet.
Dubai doesn't just live up to its reputation; it will completely exceed your expectations and wow you from so many different angles.
You can go from exploring the glitz and glam in downtown, and then uncover the ancient traditions in Deira.
We recently stayed and explored a hotel that has taken the downtown area by storm for over 15+ years, the experience was incredible and here is a breakdown of our stay.
About Swissotel Al Murooj Hotel
The Swissôtel Al Murooj hotel is a short walk away from two of Dubai's biggest tourists spots – Dubai Mall and the world-famous Burj Khalifa.
The hotel features a beautifully landscaped garden in the middle of the resort, that includes multiple swimming pools and free WiFi in public areas.
The luxurious five-star hotel offers views of the city or the lush courtyard gardens, we chose the room overlooking the gardens and then you get the sunset and skyscrapers on Sheikh Zayed Road, which we highly recommend.
Each room has a flat-screen TV, a relaxing seated area and a work desk for those last-minute emails before you enjoy the staycation.
When you wake up and need an instant coffee hit, every room has a minibar and tea/coffee facilities.
Now to make this hotel stand out from the crowd are the dining facilities. The dining options include the award-winning Double Decker Pub and the Pergolas all-day dining restaurant, that serves international dishes and even that themed evening. I will break down exactly our dining experiences later on.
The hotel has 251 rooms, city and garden views, a Health Club & Spa, 4 restaurants/bars and has plenty of things to do around the hotel e.g. Visit the Souks in Deira, Ride an Abra on the Creek, Hit the many malls, Explore Al Seef on the Creek, play golf at one of the many world-famous clubs and so much more that we would be here all day naming attractions.
Hotel Safety
This hotel has cleanliness and sanitization measures in place to ensure the health, safety, and security of all their guests.
We felt extremely happy and safe because of the measures that meant we were taken care of at every moment.
Our room had a safety protocol banner hanging on our door handle, it read: 'This room has been carefully cleaned and disinfected. #swissotelcares
Our Stay at the Swissotel Al Murooj Hotel
We were invited to stay at this incredible resort with an inclusive package, which meant we got to fully enjoy ourselves.
This hotel is an important part of the downtown Dubai landscape and is has been welcoming guests since 2015.
Our room was the 'Deluxe King Room' with beautiful garden views and Sheikh Zayed road, the views are really so amazing from these rooms!
Our Arrival
We arrived at the hotel and utilised the extremely friendly valet staff at the entrance to help us valet our car to taking our luggage to our room for us.
We usually carry our own belongings but they were insistent on helping us. From our meeting with the valet staff to checking in with the helpful staff on the reception, we both felt very welcomed and this was a great start to our stay at the Swissotel Al Murooj.
With a short journey from the reception to our room, which we were guided by one of the reception team.
We were instantly blown away upon our entrance to the room that we were staying in, views were jaw-dropping out the window!
The deluxe king room was beautiful! We were extremely impressed by the layout, the size, the views and the workstation that meant we could both get some much-needed work sorted.
We have stayed in many hotels around the UAE and the world, but the Swissotel Al Murooj had thought of every detail to make the guests feel welcomed and comfortable.
As we had driven to the hotel straight from work, we were both extremely hungry and once that front door was opened, our noses and eyes were drawn straight to the bowl of fruit delivered to us by the extremely accommodating host. They must have read our minds and it was such a beautiful touch by them.
They had literally thought of everything!
Also before I forget, Check-in starts from 14h00 daily and Check out is up to 12h00 on the day that you leave.
Our Deluxe King Room Views
With this being our first visit to the hotel, we were very impressed by the spectacular views of the sunset over the Sheikh Zayed buildings.
We had the choice of the floor to have our room on and the higher the room in the building, the better the view.
A few little bits that our room had:
Fridge
Coffee machine
Work station
Everything that we need in a room!
Local area to the hotel
The Swissotel Al Murooj Hotel, Downtown Dubai is located in an upmarket part of town, which is in-between Dubai International Financial District and Dubai Mall area.
A short taxi drive will take you to places such as La Mer beach, Burj Al Arab, Dubai Creek and Meydan Racecourse.
The hotel provides maps of the local area and you could go out most evenings and new things would be on every corner, there are so many world record-breaking buildings in this part of town that you can have so much fun.
There are so many small food outlets dotted around this area, some on the outside of the resort and also the world's largest mall in Dubai.
Swissotel Al Murooj Hotel Room Price
Room rates are very good value for money when it comes up against the jaw-dropping prices of other hotels in Downtown Dubai and Dubai Marina.
Room prices are from the official website (https://www.swissotel.com/Booking);
Classic Room– 344 AED (With breakfast – 570 AED)
Junior Suite – 424 AED (With breakfast – 670 AED)
Suites – 560 AED (With breakfast – 670 AED)
Executive Room– 584 AED (With breakfast – 870 AED)
Premier – 664 AED (With breakfast – 970 AED)
Presidential Suite (With breakfast – 7640 AED)
Sign up as a member and get 10% off every room rate. These prices are based on two adults.
Facilities in the hotel
With the resort having to stand out from the crowd and already doing a great job with it being the landmark 5 star hotel in Dubai, it has some of the very best facilities that a hotel needs to keep you on site, such as:
Free WiFi
World class on-site restaurants
Free parking & Valet Service
Outdoor pools
Fitness center
Business center
Digital Keys
Concierge
Spa
Tennis courts
Room service
Meeting rooms
Nightclub
Lounge
Double Decker Pub
Restaurants
Here are the different eateries on site at the hotel:
Pergolas, All-Day Dining Restaurant
Tabule, Authentic Middle-Eastern Cuisine
Double Decker, British Theme Pub packed with character
Anees, Poolside Dining
Circle Cafe, Lobby Lounge
Room Service, 24 hours in room dining
Here is a debrief on how we got on with the incredible food that was on offer at the Swissotel Al Murooj hotel.
On Thursday evening, we visited the amazing Pergolas restaurant at Swissotel Al Murooj. It was the seafood evening that is routinely on here every Tuesday and Thursday.
We were very impressed by the quality of fish and seafood that was on offer and fully indulged in all the incredible food.
The continued high level of service throughout the hotel was evident in the restaurant as well, we were very impressed with how attentive the staff were to all tables.
The following evening, we had heard amazing reviews regarding the Pergola restaurant's themed Italian evening.
When we arrived at the hotel, the concierge told us that this night was something to not be missed because of the pasta and pizza, they were right!
I do not think Anya or I had ever eaten so much pasta, it was out of this world and the themed stations took us back to our travels along the Amalfi Coast.
Link to the Pergolas restaurant Tripadvisor
Prices of the themed nights:
Tuesday & Thursday (Seafood night) – 280 AED
Friday (Italian night) – 170 AED *Buy 1 get 1 Free
Here are a few photos of what we had:
Friday
We went for an early morning gym workout before breakfast, this felt great as we were able to burn off any left-over calories from last night's pizza and we felt fresh for the rest of the day.
For breakfast, we got to the Pergola restaurant for this day dining. We were very surprised at the amount of food that they have to choose from, this allowed us to try different food, which we wouldn't normally eat at home.
After breakfast, we ventured out to the pool for a few hours of sun and to relax before going to the bottomless brunch at the Double Decker Pub that is in the grounds of the hotel
Double Decker Brunch
We invited a few of our friends to this brunch and were suitably impressed by how homely the pub made us feel, from us both growing up back in London.
The dress code was casual and the music had us having a whale of a time from 1 – 4pm.
The brunch is one of the most well-priced in Dubai with it coming in at 189 AED for house beverages. This will be hard to beat at many of the hotels throughout the city. Find all their details at @doubledeckerme
Here are some photos of our meal:
Time to get to places (Minutes to drive)
Dubai (DXB) Airport – 20 minutes
Downtown Dubai – 3 minutes
Al Maktoum International– 40 minutes
EXPO site – 40minutes
Dubai Marina – 21 minutes
Taxis are plentiful but if you are going to be taking longer trips on multiple occasions, then maybe a hire car would be more suitable.
If you are interested in staying in the downtown area of Dubai, which is within walking distance from the Burj Khalifa, Dubai Mall and DIFC, then this is your hotel.
It has literally everything that you could need on-site and has become a highly valued spa resort, for those chilled vibes.
We highly recommend booking a stay at the Swissotel Al Murooj hotel.
@swissotelalmuroojdubai #swissotelalmuroojdubai
Hotel contact information and location
Al MustaqbalSteet
Downtown Dubai
Phone: +97143211111
Email: ALMUROOJ@SWISSOTEL.COM