Bollywood Parks Dubai Tickets and Offers [2020]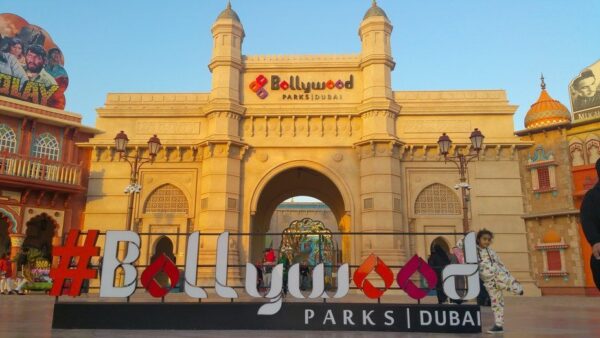 Are you a movie lover and want to experience the magic of Bollywood in Dubai? Then your search ends here at Bollywood theme park in Dubai.
In this blog post, I am going to cover all the information about the park such as attractions in the park, restaurants, shops, events, timings to visit, Bollywood parks Dubai tickets price and more.
As you know, Dubai attracts millions of visitors every year from all over the world because it has so many attractions to visit in Dubai and Bollywood Parks Dubai is one of them.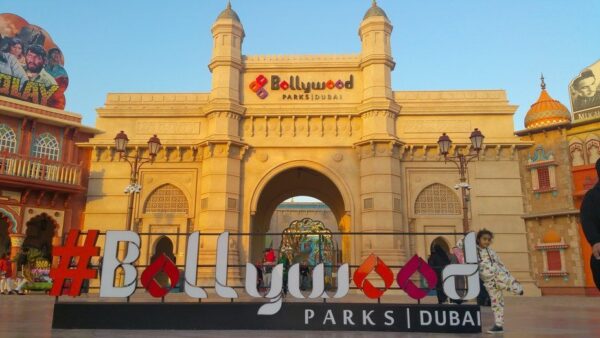 Bollywood Park Dubai
It is the first theme park in the world which is dedicated to the industry of Bollywood film industry.
Built on the space of 1.7 million square feet this attraction is a part of 25 million square feet Dubai Parks and Resorts, which also features other popular attractions such as Legoland Dubai, Legoland Water Park, Motion Gate and Riverland Dubai.
If you are looking to see more attraction during your visit, you should get 3 or 5 days Dubai City Pass.
Bollywood Park Zones
The Bollywood theme park is divided into 5 different zones such as Bollywood Boulevard, Mumbai Chowk, Bollywood Film Studio, Royal Plaza, and Rustic Ravine.
1. Bollywood Boulevard
In this zone,, you get everything from restaurant to street-style food, cafes, shopping destination and a lot of other attractions based on popular movies like Mughal-e-Azam, Shahensha, Chalte Chalte, Rock On, Bollywood Studio Store, and more.
2. Mumbai Chowk
This zone gives you an opportunity to relive the magic of Mumbai in its own style with options like shopping from Mumbai Bazaar and enjoying food at Victoria Station. Apart from this, they also have 3D ride inspired by the popular character "Don", played by Shahrukh Khan.
3. Bollywood Park Film Studio
Like every zone. even this zone consists of a number of restaurants. This zone is more popular amongst kids for 4D theatre adventure with India's superhero Krrish and Ra.One
4. Royal Plaza
Located in the middle of the park, it features a theatre named Rajmahal Theatre with a seating capacity of 850 people.
5. Rustic Ravine
This zone is created to present the life of the village in India with some fun activities such from Bollywood movies such as "The Hunt for Gabbar Singh" from movie Sholay, play cricket with a movie as it happened in the movie Lagaan, and so on.
Must Read: How to book Burj Khalifa tickets at the lowest price?
Bollywood Parks Dubai Tickets Price
The price of a ticket starts from AED 99 up to AED 395 without taxes. Below is the detail information about the Bollywood Parks Dubai tickets cost in Dirham and Indian Rupees:
| | | |
| --- | --- | --- |
| Types of Tickets | Price in AED | Price in Rupees |
| UAE Resident Offer | AED 115 | Rs 2368 |
| One Day Park Pass | AED 175 | Rs 3605 |
| Annual Pass | AED 395 | Rs 8120 |
Note: Kids under 3 years old can go free of cost.
Where to Buy Tickets for the Park?
The price of the Bollywood Parks Dubai tickets depends on the offer you choose and at what time.
For instance, if you are buying tickets on the same day you may not get discounts on the tickets. However, if you buy tickets in advance you will definitely get good deals.
That is the reason, I recommend buying Bollywood Parks Dubai tickets a few days before.
You can get the best deals from websites such as Klook.com and GetYourguide.com.
Attractions in Bollywood Park Dubai
Popular Attractions
Grand Parade – New
Bollywood Boulevard Stage – New
Lagaan: The Thrill of Victory
Lagaan: Champaner Cricket Carnival
Sholay: The Hunt for Gabbar Singh
Cross Roads Stage – New
Stars On Steps Stage – New
RA.One: Unleashed
Krrish: Hero's Flight
Mumbai Express Stage – New
Entry Plaza Stage – New
Rangmanch Stage
Cinemagic featuring Zindagi Na Milegi Dobara
Rajmahal Theatre
Don: The Chase
Restaurants
Mughal-e-Azam
Victoria Station
Jumbo Cafe
Rock On!!
Spicy Dhaba
Studio Canteen
Shops
There are shops in each zone of the Bollywood Park Dubai. However, there are few shops which are more popular such as Heroes Vault, Bollywood Haat, Mumbai Bazaar, Bollywood Studio Store, Snapshot Photo Pickup, Shahenshah, Chalte Chalte, and Desi Emporium with Maharani Sweets.
Suggested Read: Hop on Best Dhow Cruise in Dubai Marina
How to reach Bollywood Parks Dubai?
You can visit Bollywood Parks Dubai by car and metro.
It is very easy to reach the place from Downtown Dubai, just head towards the south of Sheikh Zayed Road, and you will see the Bollywood Parks Dubai once you pass Dubai Marina and Jebel Ali.
Take the red metro line south all the way to the end station Jebel Ali. From there take a taxi to reach Bollywood Parks Dubai.
Bollywood Parks Dubai Timings
You can visit the park anytime between 3 pm to 11 pm from Sunday to Saturday.
Parking
The park offers free parking to all its visitors. However, you need to pay AED 100 for valet parking which is available in P1 lot.
Bollywood Parks Fact:
The Bollywood theme park in Dubai is bigger than the size of 3 football fields. This is the world's only Bollywood theme park which is in Dubai and not in India.
Whether you like or have any questions, do let me know in the comments below.