Dubai Garden Glow – A Visit to Largest Glow-In-Dark Garden in the World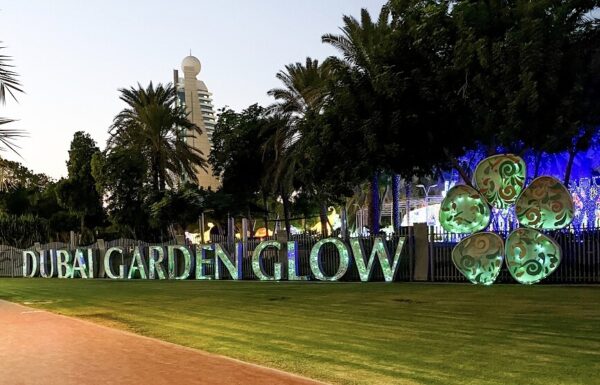 As winter starts the gates are opened for some of the unique and amazing attractions in dubai such as Global Village, Miracle Garden, and Dubai Garden Glow.
In this blog post, I am going to cover all the information about the park such as Dubai Garden Glow tickets price, opening times, how to get to garden glow park, location, and different parts of the park.
The Dubai Garden Glow Season-6 is Now Open – Excitingly New, Amazingly Big!
Dubai Garden Glow is an extravaganza of colour, lights, and excitement all contained into the Glow Garden. Your mind will go wandering and let you move alongside dinosaurs to standing on the ceiling to dancing among the lights of some awe-inspiring characters.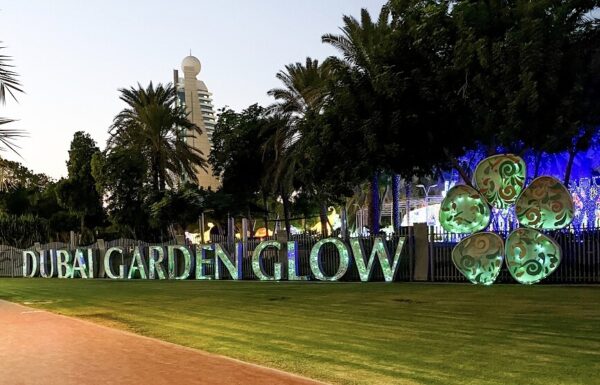 The Glow Park
The Glow Park is the largest Glow-In-Dark Garden made of more than 10 million LED lights and recyclable materials.
Dinosaur Park
Biggest Dinosaur Park with more than 120 animatronic dinosaurs taking you back to those prehistoric times.
Ice Park
This part of the park is currently under maintenance* soon to bring to you a new extravagance of Ice Sculptures with a Polar climate inside – wrap up warm for this one!
Magic Park
Love illusions? You will love this! A museum of mesmerising optical illusions – lots of insta-worthy pics here and we had so much fun in here!
Art Park
Eco-friendly art park made up of thousands of recycled small bottles, ceramic dishes and CDs.
Dubai Garden Glow Timings
Whenever you visit any attraction in the UAE, you need to know the timings, due to them changing constantly throughout the year, visit the website if you are after an answer.
Park Timings
Saturday to Thursday 5:00 PM to 10:30 PM*
Fridays and National Holidays .: 5:00 PM to 11:00 PM*
The Booking (at the counter) will be open till 9:45 P.M. The Dubai Garden Glow tickets are priced at AED 65 per entrant including 5% VAT for (Dinosaur Park + Glow Park). Children up to the age of 3 years are free.
For more information stay tuned for daily updates on our social pages or call to +971 559188126.
How to Get to Dubai Garden Glow location?
Here is the full address of the Dubai Glow Garden location, this is helpful if you are using a satellite navigation system. 
Address: Dubai Glow Garden, Zabeel Park, Gate No- 6 & 7 Area – B – Dubai – United Arab Emirates
Metro
The nearest metro station to the park is Al Jafiliya. This will be a 10-minute walk to the entrance and this distance is manageable during the winter months but when summer comes around, try to make sure that the lesser the distance to walk, the better for your body!
Taxi
We also highly recommend the local taxi supplier 'Careem', they make travel around the city very cheap and always provide a top class service, just check that the meter is turned on at the start.
Free Parking Facility
Parking is plentiful around the entrance of the Dubai Glow Garden, so make sure that you arrive early to get that space near to the entrance. Parking is also free, so don't worry about bringing those spare dirhams for the machines.
How to Book Dubai Garden Glow Tickets?
Will prior booking being such an important part of any plans in Dubai, we recommend prior booking with a phone call or visiting the website of Dubai Glow Garden (https://www.dubaigardenglow.com).
It isn't likely that you would be turned away due to the park being at capacity, but if it gives you peace of mind, which I like to have, I recommend prior booking.
Single entry to the park comes in at 65 AED per person. Dubai Garden Glow Ticket is valid only for Garden Glow + Dinosaur Park AED 65 including 5% VAT.
Get your Dubai Garden Glow tickets now and go and see the spectacular 'must-see' attraction of Dubai – Glow Garden!
Our Review
During our visit to Dubai Garden Glow we enjoyed it, so we definitely recommend it to everyone who asks for places to visit in Dubai with family. There is so much to see and experience especially if you are with kids they will love it and enjoy to the fullest.
Have questions or enjoyed the blog posts? Either way, I'd like to hear from you. So go ahead and leave a comment below.