Aqua Fun Water Park in Dubai – Unforgettable Trip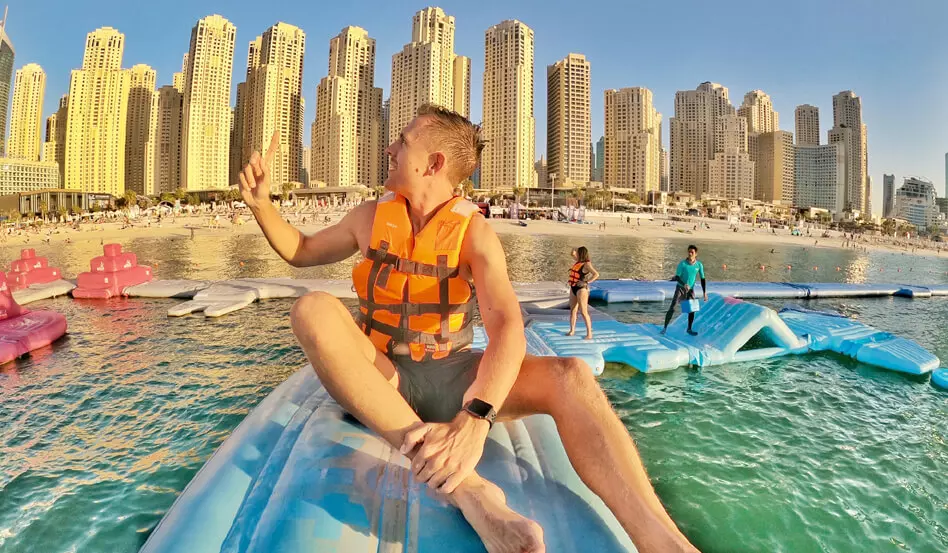 When you think of visiting Dubai, you usually think of the Burj Khalifa, the Desert and the Burj Al Arab.
Another landmark that is also a 'World's largest' is the Aqua Fun water park in Dubai at JBR beach. The waterpark experience is one that should not be missed and has also featured as the Top #5 things to do in Dubai.
You will have the most energised day ever once you enter that water entrance. For your ticket, you are going to challenge yourself, with friends and family in a way that your body or friendship has never been tested before.
Throughout your experience, you can capture funny, unforgettable, and priceless memories as you or your friends struggle around the world's largest inflatable aqua park floating in the Gulf Sea.
The aqua park has a mere 72+ challenges across its huge surface area. You will have so much fun with some of the most incredible backdrops in the world.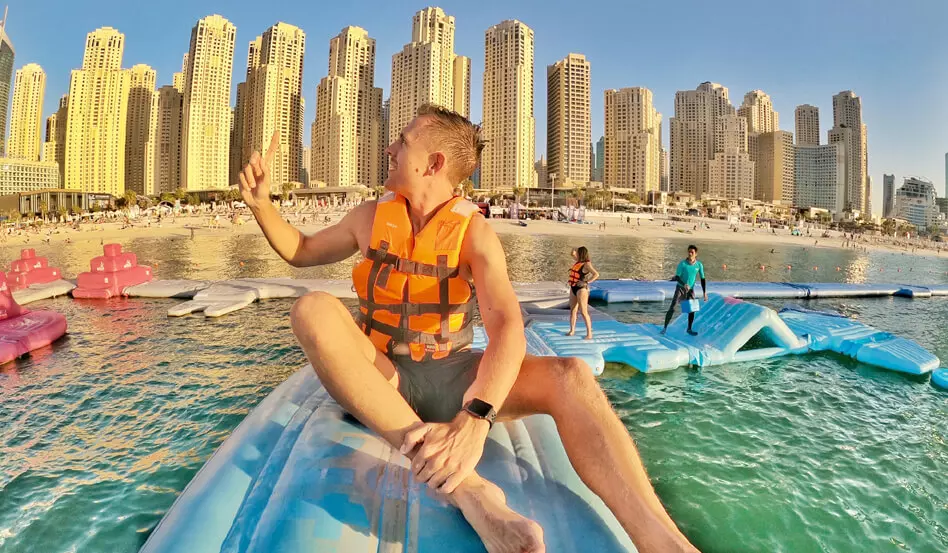 Every side of the Aqua Fun Water Park in Dubai has a view that will stop you in your tracks. You have Bluewater Island and the Ain Dubai wheel on one side, JBR and Dubai Marina skyscrapers on another and then Palm Jumeirah nestled to the right from the beach.
Every angle is Instaworthy!
Location
Jumeirah Beach Residence (JBR) Beach
Near Dubai Marina
Car Parking
South Beach parking is the spot that will take all the stress of finding that last space to get to the Aqua Fun water park on time. After living here for 3 years, I have never once seen the parking full. Upon entrance, you will be given a paper card. With the card, you can either pay the leaving fee upon exit which will be a large amount or head to one of the many world-class outlets along the promenade for some food. You only have to spend 100 AED to get free parking for 3 hours.
Opening Times for Aqua Fun Water Park in Dubai
7 days a week
10 am till sunset
We highly recommend to take advantage of the whole day pass by spending a few hours on there, one of our favourite times on the waterpark was enjoying sunset over the whole location, it was a thing of beauty (Highly Recommended).
Ticket Price of Aqua Fun Water Park in Dubai
Ticket are all-day passes and they allow you the benefit of:
Beach location, lifeguards and changing facilities.
Child (6-11) – 120 AED
Adult (12+) – 150 AED
Group (4 pax +) – 110 AED
Teacher deals are seasonal
The deals down at Aqua fun water park make the whole experience a whole lot more enjoyable, with its respectful pricing.
Things To Do In JBR
Jumeirah Beach Residence has become a bit of a hub for entertainment, dining and have that lavish evening out. If you are staying in the area JBR, then everything is on your doorstep and you will not regret it. You have everything from restaurants, cinema, escape rooms, bars, hotels, gyms, pools and great rail links to the rest of Dubai.
A few top spots to visit whilst in JBR are:
Roxy Cinema, one of the very best experiences that most other countries do not even come close to.
Eggspectation, a very egg-themed restaurant that has the crowds flocking there on a daily basis, whether you are on holiday or a resident of the UAE.
JBR beach is a hot spot for a relaxing day whilst catching a few sun rays. Always a perfect accompaniment for any visit to Aqua Fun water park.
Or a few of the hotel pools that are nestled along the beach, for that sunset chill vibe as the day comes to a close.
Food at JBR
If you are looking for somewhere to head to after a day of running across the Persian Gulf, your mind will be blown by the vastness of cuisines on offer.
The Jumeirah Beach Residence area of Dubai is known as one of the best places to stay when visiting Dubai or for residents, that want to have absolutely everything on their doorstep with a premium, as you could imagine.
With the vast range of restaurants along The Walk, JBR you can literally get changed at Aqua Fun water park after a day of fun and then walk 20 metres to some world-class food spots. If you are not fancying one of the hot spot restaurants, then you can head to some middle-of-the-range restaurants or even if you are pressed for time, there are a few fast food outlets that add a bit of excitement to your day out.
If you are living in Dubai or have lived in Dubai, you will know how IMPORTANT it is to have the @entertainerdxb app. You can visit most restaurants throughout Dubai with a 241 main courses discount or even drinks deals, check this out before going out for any meal.
A few of the restaurants that we regularly visit are: Eggspectation, Five Guys, STK, Black Tap Burgers &BiCE. As you can see, we do like a burger but some of the other restaurants are places that you should definitely visit!
There are actually 126 restaurants within a 0.3-mile radius of Aqua Fun Water Park, now you are spoilt for choice!
TripAdvisor Review
Aqua Fun Water Park has come as a highly recommended 'Must Visit' experience for anyone that lives or is visiting Dubai. You and your group will create experiences that are rare to come by and will last forever! Especially with that sunset over the whole of JBR certainly is a moment in life that make you scream 'WOW' in awe.
Highly Recommended!!!
https://www.tripadvisor.com/Attraction_Review-g295424-d14528971-Reviews–AquaFun-Dubai_Emirate_of_Dubai.html
Aqua Fun Water Park in Dubai
Address: The Beach, opposite JBR in Dubai
Contact Number: +971558431130
Website: https://www.aquafun.ae