Rainforest Meditation & Yoga at the Green Planet Dubai
A 60-minute yoga & meditation experience from the indoor bio-dome of City Walks Green Planet Rainforest, this is a unique opportunity to find your inner zen whilst watching and listening to all the beautiful sounds and creatures during the yoga!
Attending session of meditation & Yoga at the Green Planet Dubai was one of the amazing experience for our team.
You rarely get to experience a rainforest in a desert that houses near to 3000 different species of plants, animals and birds.
Yoga at The Green Planet Dubai
Yoga at the Green Planet Dubai
We absolutely loved this experience, as we had never got to explore The Green Planet before and we were absolutely wowed!
Anya was mid-pose during the yoga and a beautiful Toucan came to check that she was doing it correctly, such an amazing experience.
This yoga session is so much more than your usual yoga event, you are able to explore the rainforest for 30 minutes at the end, the whole morning just keeps getting better and worth every dirham.
You may feel sleepy after a week of early get ups, but this is the perfect opportunity to give your weekend the energy that it deserves.
Get there early to be ahead of the other yogis and find that perfect spot to set up and stretch whilst finding your zen with the freshness of a tropical rainforest, you may feel even more relaxed once you see one of the sloths moving slowly through the canopy.
You need to have your mat down at 8:15 am as the yoga instructor starts to ready themselves and this extra 15 minutes gives you time to find that perfect spot, then once the instructor starts the event, you will feel an energy surge through you like never before.
We absolutely loved the full experience and have not stopped raving about it to all our friends and colleagues, this is one yoga event that will blow your mind!
Every Core Direction event has epic yoga tunes, with a new genre inspiring your movement each week with some of Dubai's best yoga instructors.
Also, take your own mats 🧘‍♂️🧘‍♀️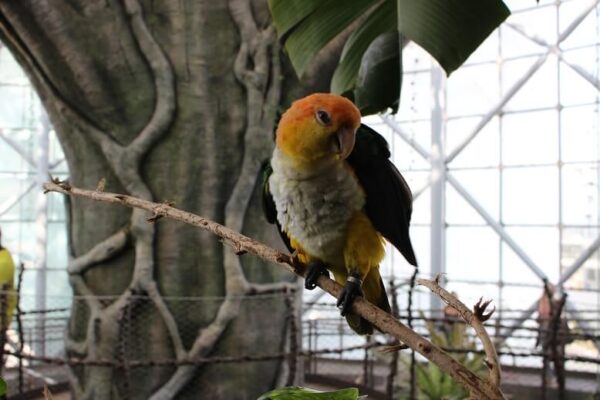 How to get there & Location
Attendees are required to arrive 30 minutes before class starts to allow time for registration & check-in.
The best parking is in the free Basement parking of City Walk but if early enough, we recommend parking on the road at the front of The Green Planet building, we did this and it is about a 30 second walk to the entrance.
Sessions will start promptly at 08:30am and run for 60 minutes.
Attendees are required to bring their own yoga mats and sweat towel as per COVID-19 government issued safety measures.
You will have 30 minutes after the session to explore The Green Planet and its canopy, we highly recommend this!
Ticket Price for the Yoga Session
The Green Planet yoga class is charged at 149 AED per class, this really represents an amazing value for money. To visit The Green Planet at their usual price, you are looking at 120 AED, the Core Direction event is worth every dirham!
You would really struggle to find anything on this level of amazingness for that much of a low price! Plus, you get to experience a TROPICAL RAINFOREST set in the heart of Dubai (A Desert).
Timings
Events are run by Core Direction's team of resident yoga gurus every Friday morning from 08:30am-09:30am.
We got to experience the Friday morning yoga class and it really set us up with a great start to the day and the weekend (Highly recommended).
This really does sound too good to be true, but it is even better than the explanation, we did this event two weeks ago and you will really feel like the moment is surreal.