Our Unforgettable Gyrocopter Dubai Flight: Soaring Through the Skies
Score 0%
Score 0%
Recently, we had a chance to experience a Gyrocopter Dubai flight with Skyhub Dubai, it is one of the most thrilling activities to do in Dubai.
In this post, we are going to share our experience about the Gyrocopter Dubai, gyro flight packages & pricing, iconic landmarks you get to see, and location.
A little bit about what a Gyrocopter is
A gyrocopter is quite an unusual kind of aircraft, especially to look at. They look similar to helicopters but by the construction and the way of flying they are more similar to airplanes.
They are very small aircraft that usually carry two people (Pilot & Passenger).
The gyrocopter flown by Skyhub Dubai is one that has no roof 'Naked', gives a much better view of the landscape but comes with the safety ruling of no equipment allowed on board by the passenger.
Our Experience of Gyrocopters Dubai Flight
The #p2visitdxb team was invited to this incredible experience of flying over Dubai in one of Skyhub Dubai's open-top gyrocopters.
We arrived at the Skydive Dubai Palm Drop Zone about thirty minutes before our scheduled flights, as this is where the SkyHub Gyrocopter office is also located.
We had to complete the safety documentation at the reception, this was after having to complete a separate one via email 24 hours before.
Safety is paramount at Skyhub Dubai and you feel safe throughout, which is amazing on their part.
With our early arrival, the staff were extremely accommodating in welcoming us and prepped us for the ultimate experience.
As soon as we had completed the documents, we then got a buggy to where our Gyrocopter flight would be taking off from.
Read More Blogs:
Meet Gyrocopter Pilot, Captain Frank
We met the pilot, Captain Frank, who briefed us on what to do in case of an emergency. Anya was flying before me (Patrick), so I had to watch her take off and return to the reception, whilst she was flying.
Frank was extremely reassuring throughout and gave us some little tips to make use of throughout our flight.
The thrilling part was the takeoff but as soon as we were in the air, it was quite an exhilarating experience and we both didn't know which part of the skyline to marvel at first.
We flew over such landmarks in our Gyrocopter Dubai flight:
Palm Jumeirah
Burj Al Arab
Jumeriah Beach
Dubai Marina
Sheikh Zayed Road
Mall of the Emirates
Kite Beach
The flight route take-off was from the Skydive Palm Drop Zone.
Once we got into the sky, we started to head up towards Atlantis. Once reaching there and being able to look down the stalk of the Palm, we flew to the Burj Al Arab Hotel.
After reaching the Burj Al Arab, we did a few doughnuts in the gyrocopter flight which was great fun and then head along Sheikh Zayed Road back to the Marina.
It was a long 20-minute ride, which was the perfect package. There is an option to have a longer flight but you only fly over the World Islands, which most are empty anyway.
We got to enjoy the sights of the city and the weather was perfect, November was a great month to do it in.
Gyrocopter Dubai Flight Pricing
Skyhub Dubai has some FANTASTIC deals on offer until the New Year, which is a great time to take advantage and book that flight for a loved one, birthday or even for a fun activity whilst here on holiday.
The options that they currently have on offer are:
Option 3: 12-minute flight (over the Palm Jumeirah Island only) AED 400
Those looking for an adventure that's short and sweet can opt for the 12-minute flight over the iconic Palm Jumeirah Island.
Option 2: 20-minute flight (our popular, standard route) AED 700
The 20-minute flight will fly you over some of the city's most iconic landmarks including Ain Dubai, Burj Al Arab, and the Palm Jumeirah.
Option 1: 30-minute flight (long route) AED 999
If you've got a little more time on your hands and are looking for a little more fun and adventure, the 30-minute flight includes all of the above attractions as well as Dubai's world-famous World Islands and Kite Beach.
Visit their website to know more: https://www.skydivedubai.ae/en/book-your-experience
Aerial Views Over Dubai From Gyrocopter Flight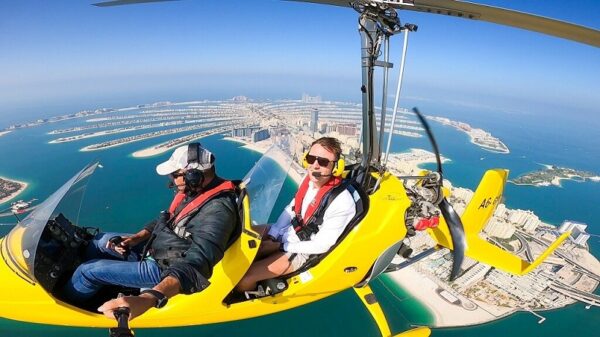 Key things to know for Gyrocopter Flight in Dubai
1. Minimum Age is 17 years old.
2. As a legal requirement, the maximum weight limit of the person is 105 kg on the day.
3. You can reschedule your flight at least 24 hours before the date of flight, but any earlier would be better for them to know.
4. The gyrocopter flight in Dubai is subject to weather conditions and operates every day from September to May months.
5. Pictures and videos can be taken for an additional fee, they can Go Pro key moments of the flight tour. Go and see our video from the @placestovisitindubai
6. Check in 30 minutes before your time of reservation, this is key to complete the safety briefing and medical questionnaire.
7. Unsecured cameras or phones (without a neck strap or wristband) are prohibited onboard.
8. Bring a jacket as it's cold and windy if you ride the open gyrocopter, but we didn't need one in November.
Skyhub Dubai Information
Skyhub Dubai
Address: SkyDive Dubai, Al Seyahi St, Mina Seyahi area, Dubai, UAE
Mobile: +97143778888
Email: gyro@skyhub.ae
Website: http://www.skydivedubai.ae/gyrocopter.html
Instagram: @skyhubdubai
Facebook: @skyhubdubai
Google Map Location
Below is a map guide to the location of SkyDive Dubai, where the Skyhub Gyrocopter office and reception are also located.
There's plenty of free parking spaces in a very short walk to the location or a cab can drop you outside.
Our Review About Gyrocopter Flight
If you have any questions about the flight share them in the comments below and we will get back to you.
Review of Gyrocopter Flight Experience in Dubai with Skyhub
0%
Summary If you are visiting Dubai for a holidays then you must fly over Dubai in Gyroocopter flight. We highly recommend it for adventure lover.