Hatta Kayak and Yoga at Hatta Dam with Hatta Adventures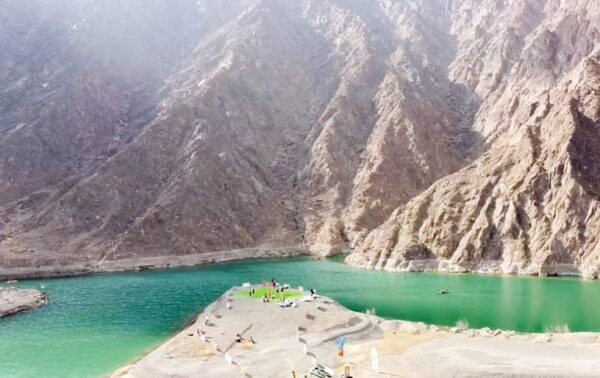 Looking for something different? We always are! That's why we jumped at the opportunity to join Oisín Mc Yoga who organised an adventurous morning in Hatta on Friday 20th November 2020.
Places to visit in Dubai team went for Hatta Kayak and yoga with Oisín Mc Yoga who teamed up with the awesome people at Dubai Sports Council, Hatta Adventures, and Hatta Kayak to bring together an awesome morning filled with activities, meditation and food☀️
Mountains, kayaking, yoga & breakfast… basically, all the good stuff all rolled into one epic experience 🚣🏻‍♀️🧘🏼‍♂️
If you are yoga lover and looking for a unique yoga experience in Dubai then you should check out our below blogs.
The day kick started at 05:30 am when we made our way from Dubai to Hatta by car. The journey can take between an hour and a half to two hours, but we also wanted to catch the sunrise on our journey.
You know you're close to Hatta when the mountains start to appear in the distance and before you know it, you're amongst them on the motorway.
Arrival at Hatta for Kayak
Once we arrived at Hatta the Kayak was the first on our list. We started the morning off right by kayaking around Hatta Dam, and had a full hour to take in the breathtaking views of the UAE's nature.
As we were one of the first there, it was really peaceful and quiet at this time. We kayaked to yoga island in time to start our yoga experience at 9 am.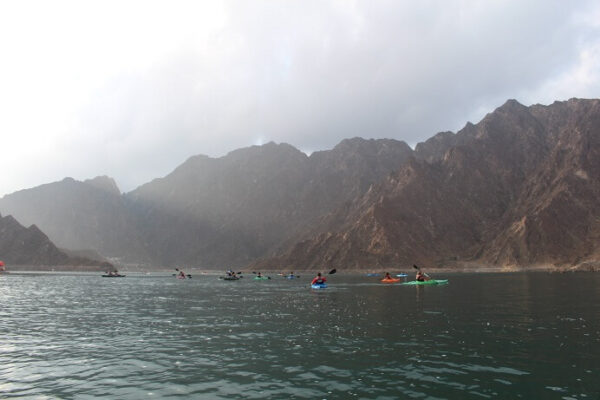 We were amongst the first to join Oisín Mc Yoga on yoga island for a gentle yoga flow, where we found our inner zen, surrounded by the Hatta mountains.
He is a great yoga teacher, he made sure to check in with everyone and see if there were anyone with any injuries and give some advice to those new to yoga.
Oisín Mc Yoga delivered the pace of the yoga perfectly for a Friday morning.
It has to be said that the yoga amongst the water and mountain surroundings was something quite special!
After yoga, we rolled up our mats, packed up bags and kayaked our way back to shore.
We travelled by car for a few mins to Hatta Heritage Village, where Hatta Adventures had organized a lovely breakfast in the new Al Hajarain Restaurant.
Breakfast was also included J Patrick had the traditional Shakshuka whilst I had the pancakes with slices of banana and maple syrup!
We highly recommend this for a day trip and there's always an opportunity to stay for the weekend and checkout Hatta Aventures for other activities available.
This was the first Kayak and Yoga in Hatta and @oisin_mc_yoga reassured us there will be more in the future – keep your eyes peeled for future dates.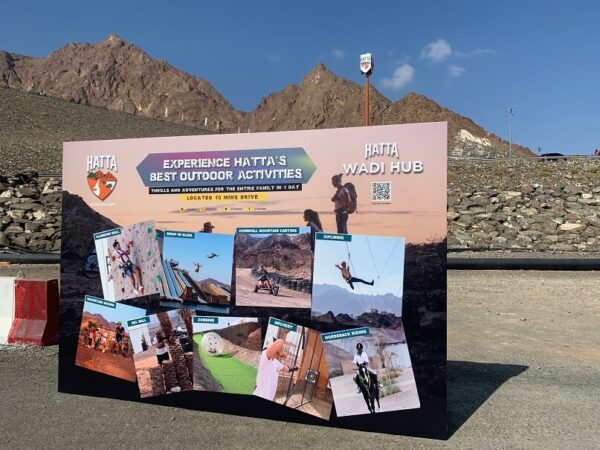 How to Get There & Location
The drive from Dubai is anything from 1 hour 30 minutes upwards but is very easy to navigate with the most amazing views as you leave Dubai and enter the mountain range.
When you arrive, attendees are requested to park at Hatta Dam Car Park, which is down to the bottom of the Dam.
There is a walk up to the top of the Dam but that shouldn't take you longer than 5 minutes to walk up it, but looks a lot more daunting than it actually is.
Once you arrive, registration is in the car park from 07:30 am, check signAge and the confirmation email for details.
The organisers will venture up to the top for anyone that missed them anyway, they are extremely accommodating.
Times of the activities
Kayak session starts at 08.00 am and runs for 60 minutes until 09:00 am, Yoga starts at 09.00 am and you have plenty of time to get some of those insta-worthy photos. Remember to tag @hattakayak @hattaadventures on Instagram.
Attendees are also required to bring their own yoga mats, sweat towel and water as per COVID-19 government issued safety measures. However, they did have sanitized Yoga mats and blocks just in case – they've thought of everything! Including an extra speed boat to carry any extra bags you might have and a little shop at the top to purchase any extra food you may need for the kayak.
Price for Hatta Kayak and Yoga Package
The Kayak and Yoga tickets are charged at 249 AED per person, which is fantastic value for money as it includes 2 hours kayaking, yoga and breakfast (Amazing bundle).
However, if you are just planning to go for Kayak then the price for single kayak is 60 AED, and double kayak is 120 AED.
You can buy the tickets on www.hopasports.com/en/event/yoga-kayak
As the Places to visit in Dubai team, we have been to many different locations for yoga around the UAE so far, but this is one that had absolutely everything!
We highly recommend this, if you want a morning of fun, exciting activities, great memories, a nutritious breakfast and all with a chilled yoga event included in the price.t
Hatta Kayak Timings
Hatta Kayak timings is from 7 am to 9 pm.
Follow Oisín Mc Yoga, @hattakayak and @hattaadventures on Instagram for future dates and times. This is an event that really does blow your mind!
If you have any questions about the event do let us know we would be happy to answer it.