Dubai Opera Garden Twilight Yoga Flow
A 60-minute yoga flow from the raised private garden of Dubai Opera is already an amazing location, add some sunset and BANG!
You have some of the most breath-taking views of the world's tallest building, the Burj Khalifa, with Dubai Opera nestled on your left and the incredible skyline of Downtown Dubai entering your vision from every angle, this experience really is jaw-dropping.
This class offers the perfect way to wind down your day. Find a spot for your mat and get ready for an experience of a lifetime.
You need to have your mat down at 6 pm as the sun sets over Dubai Opera and enjoy the entertainment of the majestic Dubai Fountain show at twilight.
As the fountain show ends, we press play on our epic yoga tunes with a new genre inspiring your movement each week with some of Dubai's best yoga instructors. Dubai Opera embraces the gift of performing arts, dance and music and so do we.
Also, please bring your own mats 🧘‍♂️🧘‍♀️
Yoga in front of the Dubai Fountain show at Twilight
How to get there & Location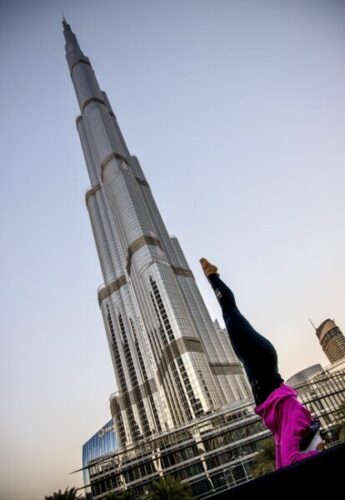 Attendees to the yoga are requested to park at Dubai Opera parking – P2 level, you will then head up in the lift to Ground Floor and walk past the Dubai Opera building down the stairs towards Burj Park.
The private Dubai Opera Garden is adjacent to Burj Park and you will notice a security guard waiting at the bottom of the stairs that access the designated area.
Ticket Price
The Dubai Opera yoga class is charged at 105 AED per class, this really represents an amazing value for money.
You would really struggle to find anything on this level of amazingness for that much of a low price!
Timings
The timings are Saturdays 6pm till 7pm (60 minutes), whilst this yoga session is in full flow, you will get the opportunity to saviour the World Record breaking fountain show on three occasions, this already makes the whole session worth it!
This really does sound too good to be true, but it is even better than the explanation, I am getting butterflies thinking about when we did it just over three weeks ago.
Info about Core Direction
The Core Direction wellness platform & app provides social interaction, physical activity & mental focus to deliver a programme that brings the workplace together, builds team spirit & camaraderie, and improves the overall quality of fitness, health & wellness (www.coredirection.com)
All booking of events are accessed through the app, it really is an easy process from the start of booking to the end of the yoga session, if you have any questions, then the kind staff at @coredirection will help to assist you.
Covid Regulations
Security are on site at the garden and will run temperature checks before attendees are guided to socially distanced mat placings.
Attendees are required to bring their own yoga mats and sweat towel as per COVID-19 government-issued safety measures, this is to maintain the highest levels of cleanliness and will keep you protected.
Other Dubai locations to undertake awe-inspiring yoga
Dubai Frame – Overlooks old and new Dubai
The Green Planet – Rainforest experience
Media City – Gentle Dusk Vinyasa Flow on the water's edge
Jebel Jais Mountain – Magnificent views of the peaks and valleys of the Hajar Mountains.
As you can see, we have done Dubai Opera, Burj Khalifa and Green Planet Core Direction yoga sessions so far and we have loved every minute of each one, we highly recommend them all and will be trying the other ones very soon.
Follow Core Direction on Instagram and Download App.