Huqqabaz Dubai Jumeirah Restaurant Is Where The Magic Happens In Dubai!
Huqqabaz is the difference between going for dinner or having a dining experience that creates the best memories.
Our Experience of Huqqabaz Dubai Jumeirah Restaurant
Huqqabaz Dubai Jumeirah restaurant is going from strength to strength with its continued global expansion and you can completely understand why the world is loving all of its destinations. The target by 2023 is to have launched in over 100 destinations across the globe.
'As one of the trendiest restaurants in Dubai, HuQQabaz provides an area that is family-friendly, which then reinvents itself by night, for those looking for special blends and a stylish ambiance.
HuQQabaz takes you on a gastronomic journey spanning the length and breadth of the Anatolian peninsula. Pushing boundaries to deliver a distinctive blend of exceptional food, drink, and premium shishas.'
Our visit to Huqqabaz Dubai Jumeirah restaurant was one that blew us all away, with the quality of food and also the service that the waiters provided, by catering to your every need within seconds.
The grandeur from arriving at the restaurant to walking to our table and then eating our way through the menu. We were absolutely amazed at the extensive menu that had us struggling to choose and we then gave the waiter the autonomy to choose our plates for us.
Huqqabaz Dubai Jumeirah restaurant is located in the Jumeirah area of Dubai and opposite the world-renowned Four Seasons Hotel.
As we arrived, we were welcomed by the extremely hospitable and helpful staff, which was great as we had a long day at work and the valet staff took our cars with no worries.
Once sat down, we went through the many digital pages on the restaurant's iPads and we were stunned at how spectacular the photos were for every dish. It took a while to decide on what we fancied but when the waiter arrived, we asked him to choose 6 plates for us.
When the food started arriving, our whole team were flabbergasted at the incredible smell as the food was placed under our noses. Within 10 seconds of being on the table, we all started on the different salads that we had chosen – they were incredibly tasty and would definitely recommend you ordering one to accompany your other dishes!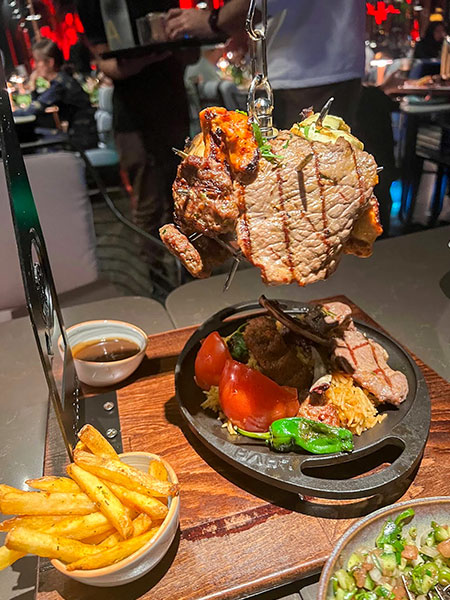 A few of our highest recommendations from Huqqabaz Dubai Jumeirah restaurant have to be:
Selfie Latte (A great way to show your appreciation to someone, with a photo of you both on the latte)
Chicken salad (This has to be up there with one of the tastiest salads that we've had
Seafood platter was a welcomed surprise, as it comes as such a showpiece and was so nice
With this restaurant being established in 2016, they are making huge movements on the world circuit and this destination definitely has to be on your list whilst in Dubai. The experience that accompanies the food and atmosphere is next level and you will most definitely be raving about it to your friends.
With the location being only a short drive from downtown Dubai (where we live), we will definitely be back in the early part of September, when our friends are visiting from England and Australia.
READ MORE
Location
HuQQabaz Dubai Jumeirah restaurant is a short drive from downtown and is a great location for any guests wanting to go for a stroll by the beach after food.
Address: 291 Beach Road, Opposite Four Season Resort, Jumeirah 2, Dubai, UAE
Phone number: +97180047229
Prices
Prices are extremely great value for the prices that are featured on the menu. If you are looking for quality of food and good value, then this is the experience that you need.
A few of the highlights for us regarding prices were:
Country Makarna pasta is definitely a must order, it is priced at 74 aed
Lamb Shashlik was a huge portion and is top quality meat, it is priced at a reasonable 159 aed
Çarkifelek was a show-buster with its huge frame and impressive stature in the middle of the table. It was worth every dirham at 189 aed.
Contact Details
Book a table through a phone call or the website.
Website: http://www.huqqabaz.com/
Phone: +97180047229
Photos and Video of Food