Ski Dubai Ticket Price, Timings, Offers & More –
If you think Dubai is famous for skyscrapers, beaches, and desert thing again.
Dubai is also famous for indoor ski resort snow park named Ski Dubai which is 22,500 square meters in size and it is the world's second-largest indoor ski resort.
In this post. I will cover all the information about the famous tourist attraction ski resort such as Ski Dubai ticket price, what to wear, timings, location, activities to do, slope, snow park, snow penguins, polar pass, and getting there.
Your Guide to Ski Dubai Snow Park
Is It Worth Visiting Ski Dubai?
You must be knowing that Dubai is well known for hot desert climate and to make a ski resort in condition like this is itself an achievement.
However, if you are still thinking that is it worth to visit Ski Dubai resort? Then my answer is YES.
The snow park is maintained at a temperature of -1 degree to 2 degrees Celsius entire year.
Slopes at Ski Dubai are 85 meters high which is equivalent to 25 storeys
There are 5 different slopes available in Ski Dubai with the longest slope measuring 400 meters.
MiddleEast first indoor Ski Resort
Location
Ski Dubai is located at the Mall of the Emirates in Dubai, United Arab Emirates.
MUST READ BLOG POSTS ON DUBAI:
Timings
I would recommend you to visit early as at that there would be less crowd at that time.
Ski Dubai has different timings for different days:
| | |
| --- | --- |
| Days | Timings |
| Sunday – Wednesday | 10 AM to 11 PM |
| Thursday | 10 AM to 12 Midnight |
| Friday – Sunday | 09 AM to 11 PM |
Ski Dubai Ticket Price
Ski Dubai ticket price in dirhams and rupees for readers in UAE and India.
Slope Packages
2 Hour
Slope Pass
Full Day
Slope Pass
SkiFly
Slope
Snow
Premium
Snow
Plus
Price
AED 210 /
Rs 4067
AED 310 /
Rs 6003
AED 305 /
Rs 5906
AED 490 /
Rs 9488
AED 340 /
Rs 6585
Snow Park Packages
Snow
Park
Snow
Classic
SkiFly Snow
Classic
Snow
Premium
Snow
Plus
Price
AED 190 /
Rs 3678
AED 265 /
Rs 5132
AED 305 /
Rs 5906
AED 490 /
Rs 9489
AED 340 /
Rs 6584
Snow Penguins Packages
Peng Friend
Encounter
Exclusive
Peng Friend
Ultimate
Peng Friend
Swimming with the Penguin
Snow Premium Penguin
Price
AED 190 /
Rs 3678
AED 265
Rs 5132
AED 305
Rs 5906
AED 490 /
Rs 9489
AED 340 /
Rs 6585
Where To Buy Ski Dubai Tickets?
If you are planning to visit Ski Dubai one of the most important questions which you must be thinking is from where I can get tickets at the lowest price, right?
I would say buy the ticket in advance from online websites which offer the lowest price such as GetYourGuide.com or Klook.com.
Whether you are visiting Ski Dubai Resort or any other tourist attraction in Dubai like Burj Khalifa, Dubai Miracle Garden, or Global Village Dubai book your tickets online in advanced.
There are 2 benefits of booking tickets online in advance:
You can get tickets online at a discounted rate as compared to offline.
You will be saved from the embarrassment of tickets sold out, in case you plan to book tickets on the same day.
There are rules which you need to follow before entering the Slope, Snow Park, and Snow Penguins.
For your understanding, I have listed rules for "2 Hour Slope Pass" activity and it changes according to the activities you choose to do.
Not Allowed: Children under two years of age
2 – 8 Years: Should enter under adult supervision
9 – 12: Should enter if a guardian is present within Mall of the Emirates
Below 21 Years: Need to submit the form signed by a guardian
Activities To Do In Ski Dubai
Slope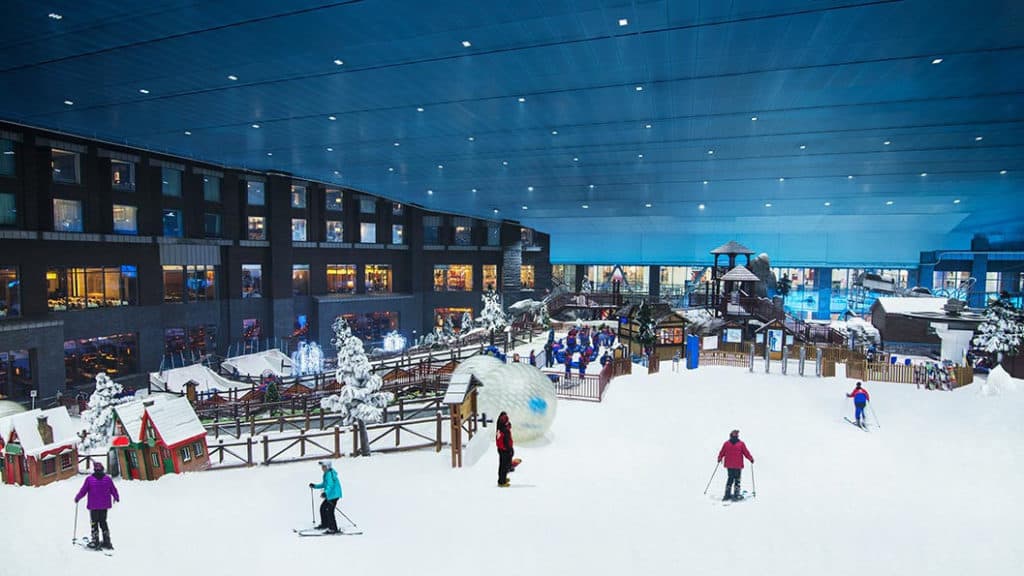 If you are a pro, you can enjoy the slopes by yourself and if you don't know you can take lessons by joining the Ski School.
If you think taking up class will be a boring think again because you will be trained by one of the best Ski professionals in the world.
I have also given the ticket price for each Ski Dubai slope activities in the table below.
Snow Park
Once you have enjoyed the slopes you can now head to snow park and you can double the fun by flying at iFly Dubai indoor skydiving for 2 minutes.
Like slope, even in Snow Park, there are 5 different types of snow park activities which you can enjoy.
In the snow park, you get unlimited access to snow park & rides such as snow bumpers, snow plough playground, ice cave, bobsled runs, zorbing, climbing wall, sliding hill, mountain thriller ride, chairlift ride, 40-minute penguin encounter 2 hours slope, 60 minutes discover the lesson, snow bullet ride, and more.
However, the snow park activities depend on the package you choose.
Snow Penguins
Ever dream about interacting with Penguin then Ski Dubai is the place for you.
Your only chance to meet, have fun and play with Snow Penguins in Dubai.
This is the place to visit with your kids and introduce them to visit Gentoo and King Penguins at Ski Dubai.
The pampered penguins enjoy a private pool, a top deck area with rocks, and a private holding area.
There are different Snow Penguin packages available to choose from which gives you a chance to meet the penguins and take photographs.
This is the best places to visit in Dubai with your kids for children between 3 to 12 years. This is one of the best experience to remember
Penguin March
This is one of the most loved activities at Ski Dubai which everyone enjoys it.
You don't need to buy Ski Dubai tickets to see the Penguin march. Those who visit Ski Dubai are allowed to see the Penguin march.
In case you plan to have a better experience with penguins you can buy a polar express pass which offers 10 minutes session with the penguins and gives you a chance to come close to the penguins.
Conclusion:
If you are looking for a place to visit with your family, kids or want to have fun in the snow park then you must visit Ski Dubai.