Top 10 Must Visit Places In Dubai [2020]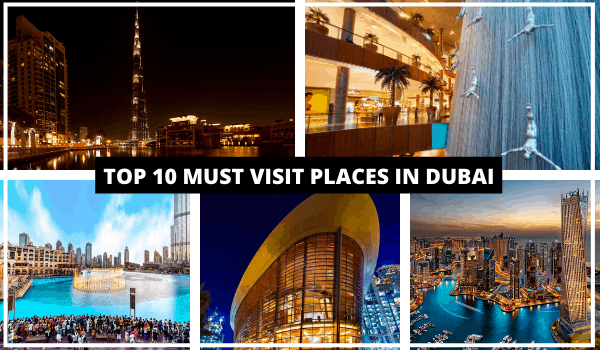 The best time to visit Dubai starts from the month of November and lots of people will travel to Dubai during the period of November till April as there are lots of festiva.ls, attractions, and magnificent celebration of New Year happens during this period.
If you are coming to Dubai during this period and looking for places to visit then I would recommend you these 10 must visit places in Dubai during your trip.
List of Must Visit Places in Dubai
1. Burj Khalifa
It is one of the most visited tourist attraction in Dubai and it is not wrong to say that your trip to Dubai is incomplete if you have not visited the Burj Khalifa.
Almost, everyone who comes to Dubai wish to see Burj Khalifa at-least once in their lifetime.
This is the top-rated must visit places in Dubai from all the attractions.
If you want to know more about Burj Khalifa in detail such as where to buy tickets, best time to visit, and more. You can check out my blog post on Burj Khalifa:
Timing: 9:30 to 18:00
Ticket Price: Starts from AED 117 for kids and AED 149 for adult
Address: 1 Sheikh Mohammed bin Rashid Blvd, Dubai, UAE
2. The Dubai Mall
It is one of the most-visited lifestyle destination in Dubai, with over 1200 retail stores, two anchor department stores and hundreds of food and beverage outlets.
It is one of the favourite shopping destination for Dubai travellers. The scintillating mall is home to more than 13 million square feet which is equivalent to more than 50 football fields.
The Mall has over 14,000 parking spaces across 3 car parks, with valet services and a car locator ticketing system.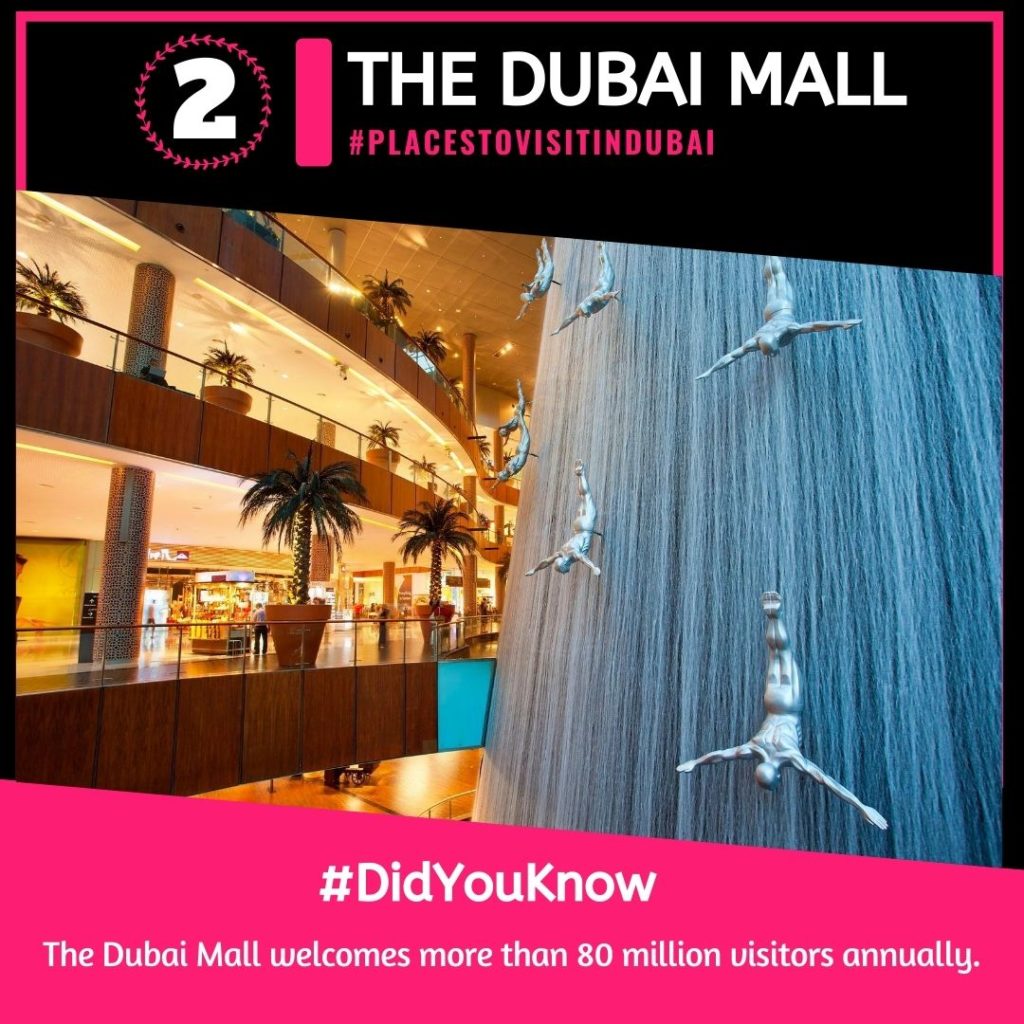 Timing: 10:00 AM to 12:00 AM
Entry Fee: Free
Address: Financial Center Rd, Along Sheik Zayed road, next to Burj Khalifa tower, Dubai, United Arab Emirates
3. Dubai Aquarium & Underwater Zoo
Have you ever dream of exploring an underwater world? If you want to realize that dream then Dubai Aquarium is the experience for you.
It is one of the largest suspended aquarium in the world.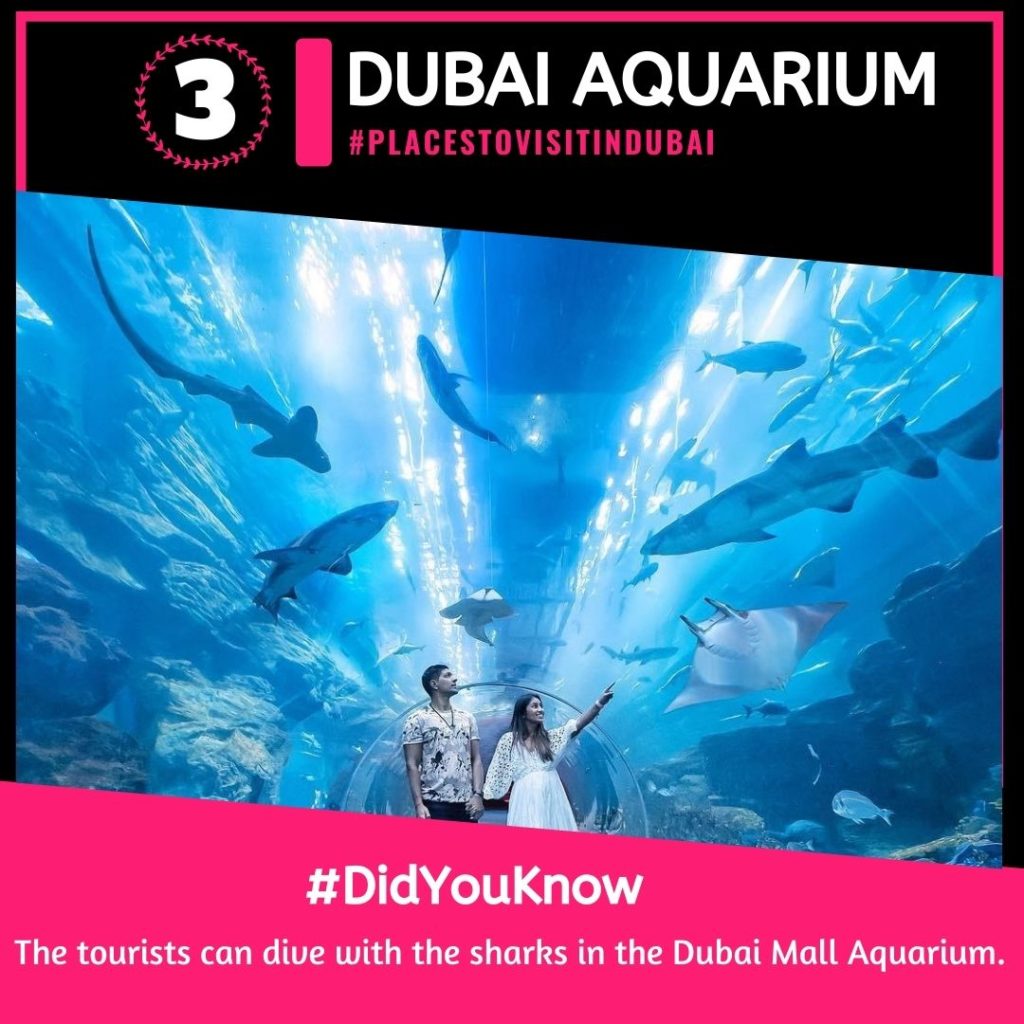 And, during your visit, you get the opportunity to witness the 10 million-litre tank which contains more than 33,000 spices, largest sand collection of sand tiger sharks, ray encounter, shark encounter, and more.
Timing: 10:00 AM to 12:00 AM
Tickets Price: Starts from AED 155
Address: Located in The Dubai Mall, Financial Center Rd, Along Sheik Zayed road, next to Burj Khalifa tower, Dubai, United Arab Emirates
Choose the tickets as per the package you wish to experience and have fun.
4. The Dubai Fountain
Dubai's downtown fountain is another exotic location to visit, the fountain spectacularly set in the giant lake against the majestic Burj Khalifa.
Whether you are planning a visit to the magnificent Burj Khalifa or the Dubai Aquarium make sure that you at The Dubai Fountain.
With 6,600 lights; 25 colour projectors, and a range of classical to contemporary Arabic and world music, Dubai Fountain is indisputably the world's most stunning choreographed fountain.
You can catch the action every 30 minutes.
Timing: 10:00 AM to 10:00 PM (Sunday to Wednesday) and 10:00 Am to 11:00 pm (Thursday to Saturday).
Tickets Price: Starts from AED 94.50 for a kid and AED 75 for adult.
Address: The Dubai Mall, Dubai – United Arab Emirates
5. Dubai Opera
Dubai Opera is the radiant centre of culture and arts in Dubai and the shining pearl of The Opera District.
With its unique 2000-seat multi-format theatre, Dubai Opera is a definitive international destination for performing arts and world-class entertainment productions.
Dubai Opera is well-know to create and host one of the best arts experiences from Dubai and the world.
The design of the Dubai Opera is created in a dhow-shaped structure which reflects the rich heritage about Dubai's fishing, trading, and pearl diving heritage.
Timing: 10:00 AM to 09:00 PM
Tickets Price: It depends on the show you book
Address: Sheikh Mohammed bin Rashid Blvd, Dubai, UAE
6. Dubai Marina
Dubai Marina is an entirely man-made marina. It is well connected with Dubai Metro to other places in Dubai which makes travelling easy.
You can do a lot of things to spend your time in this beautiful canal city such as cruises, great shopping, shows, festivals, music concerts and the list goes on.
You can enjoy your time by going for a cruise on a traditional dhow or multimillion-dollar yachts.
If you want to how to choose best dhow cruise in Dubai Marina then check out my blog on 5 Best Dhow Cruise in Dubai Marina.
Timing: 09:00 AM to 11:00 PM for Dhow Cruise
Tickets Price: Starts from AED 150
Address: Dubai Marina
7. Mall of the Emirates
Mall of the Emirates is the 2nd largest and most popular shopping destination in Dubai after the Dubai Mall. Apart from beaches and tall buildings, Dubai is well known for its shopping mall.
The MOE features more than 630 retail outlets, 7900 parking spaces, over 100 restaurants & Cafes, 80 luxury stores and 250 flagship stores.
It also hosts family leisure activities including Ski Dubai, Magic Planet, Community Theatre & Arts Centre, and Yalla! Bowling.
Timing: 10:00 AM to 12:00 AM
Entry Fee: Free
Address: Sheikh Zayed Rd, Dubai, United Arab Emirates
8. Dubai Miracle Garden
This garden opens every year on the 1st of November and closes in the month of May.
The real oasis in a desert. Known to be the world's largest natural flower garden that is adorned with a variety of flowers that are uncommon to the Middle East.
Out of the 45 million flowers that are grown here, they in recent times revealed a massive version of Disney's much-loved Mickey Mouse. It is an 18-meter floral statue that is made of nearly 100,000 flowers and weighs close to 35 tonnes.
This statue has been honoured with the Guinness World Record for the World's Tallest Supported Topiary Sculpture.
Timing: 9 AM to 9 PM (Weekdays) and 9 AM to 11 PM (Friday and Saturday)
Ticket Price: AED 55 for adult, AED 40 for children. Kids under 3 years old and people of determination can enter free.
Address: Al Barsha South 3, Dubailand, Dubai, UAE
9. Global Village Dubai
If you are visiting Dubai between November and April then you must definitely plan to visit Global Village Dubai.
It is considered as one of the biggest multicultural festival parks in the world. It showcases the cultures of more than 78 countries with events, music concert, restaurants, street shopping, etc.
In every edition, they come with lots of surprises and this year they have come with Middle East's first – Ripley's Believe it or Not! and daring stunt shows.
Timing: 4 PM till midnight (Weekdays) and 4 PM to 1 AM (Weekends)
Ticket Price: AED 15 and AED 100 for Wonder Pass
Address: Exit 37, Sheikh Mohammed Bin Zayed Road and Emirates Road, Dubai, UAE
10. Ski Dubai
If you think Dubai is all about a high-rise building, desert, beaches, shopping, hotels, or malls; then you are wrong.
There are lots of other things to do in Dubai and 𝐒𝐤𝐢 𝐃𝐮𝐛𝐚𝐢 is one of them which is located at the Mall of Emirates.
Ski Dubai is the first indoor ski resort in the Middle East which offers amazing activities to do such as the slopes, snow bullet, skiing, snowboarding, zorbing, swimming with the penguins and tobogganing.
Considering the atmospheric condition of Dubai, going for a ski experience at Ski Dubai is a perfect idea.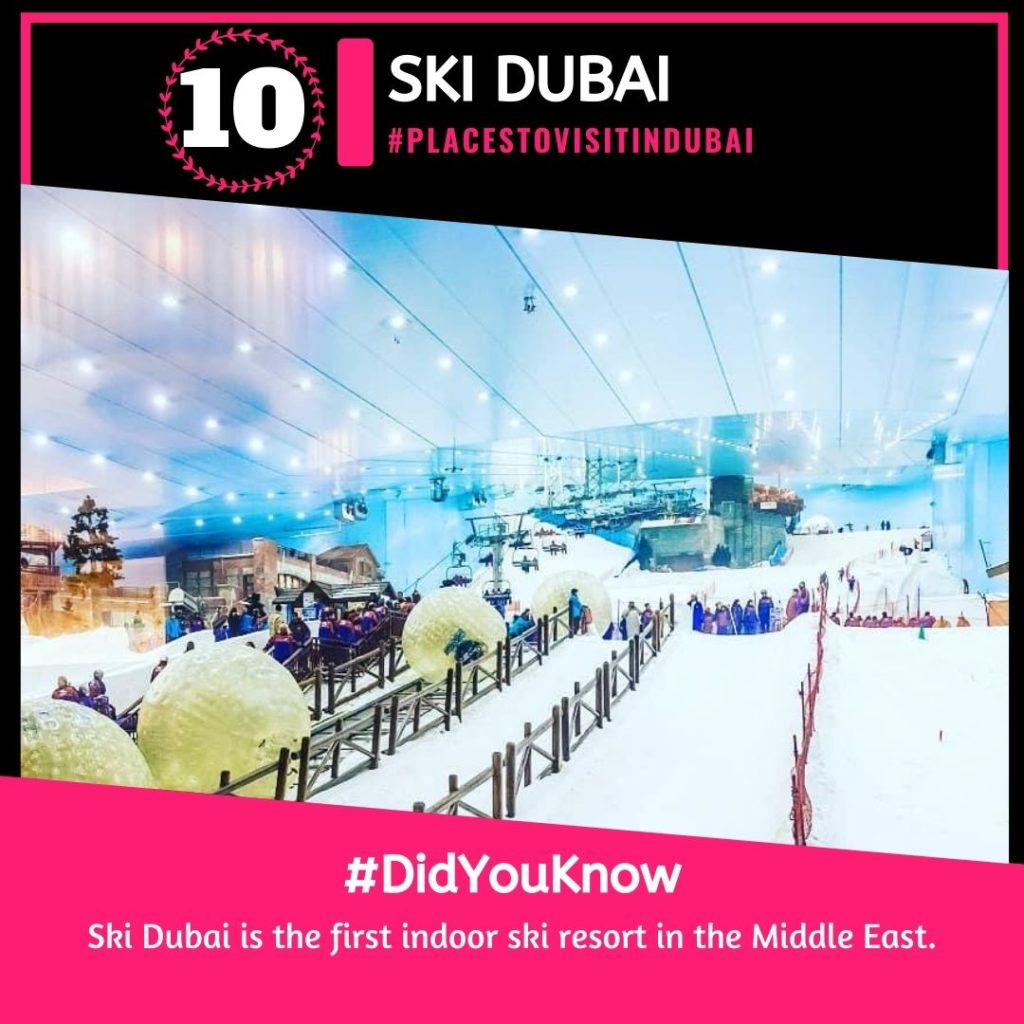 Timing: 10:00 AM to 11:00 PM
Ticket Price: Starts from AED 255 per person
Address: Mall of the Emirates
Let me know if you still have any questions about any place or want to book a tour for yourself, I would be happy to help you.
I would love to know which place is on your list during your trip to Dubai from the top 10 must visit places in Dubai.