Seawings Dubai – Experience SEAPLANE Tour in Dubai like no other
If you are looking to do an activity in Dubai, you will never be short of options but one that should be at the top of your Must-visit list is the seaplane Seawings Dubai tour!
One of the many ways to see this spectacular city, which isn't really thought of is by air, as then you can have a bird's eye view of the Burj Khalifa, Burj Al Arab, the Plam Jumeirah Island.
Interested to know more about Seaplane Seawings Dubai? Read on!
Seawings provides aerial sightseeing tours of Dubai, Abu Dhabi and Ras Al Khaimah whilst being onboard a luxurious 9-seater seaplane.
Experience a unique water take-off and landing, as you fly over some of Dubai's most incredible sights that include Palm Jumeirah, Burj Al Arab, Burj Khalifa, Meydan Racecourse, and many, many more.
Seaplane tours can be customised with add-ons or even chartered for groups. This is an ideal way to see Dubai and its neighbouring cities for small groups, corporate events, leisure activities, photoshoot work, and special occasions.
While you may wonder what the need is to see Dubai from above, you must know that from up high, even familiar cityscapes become completely new to the eye, with colours, buildings, and geographical features that you'd never known existed, until you have hovered directly above them.
The cherry to top the cake about the Seawings Dubai Experience – is the new perspective that you get from this trip!
Scenic View of Iconic Landmark of Dubai
Burj Al Arab
If you are looking to experience Dubai in a different and unique way then you must go for a breathtaking tour by flying above the cityscape with Seawings Dubai.
Bluewater Island
The Palm Island
Burj Khalifa
Details of the Seaplane Seawings Dubai Tour
A Seawings Dubai seaplane can carry up to 9 people at a time, due to Covid regulations, planes have a limited amount of spaces so please check for availability in advance.
The aircraft that is used by Seawings that takes off at Jebel Ali is the Cessna 208B Grand Caravan floats equipped Registration: A6-SEC. This is a luxurious plane, that will give you the 5-star service that you deserve.
The Seawings seaplanes fly at a height of 1500 feet, this is the optimal height for you to get a birds-eye view of Dubai and still manage to see everything in great detail.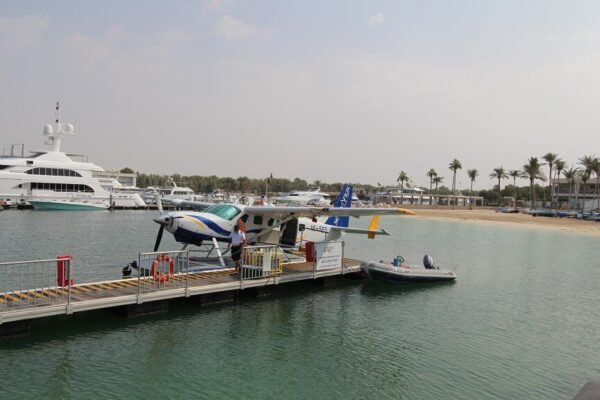 Included in the Scenic Aerial Tour Package
Before getting on-board, there will be a safety briefing with a short orientation on what to expect during the flight. Pay close attention to make the most of your seaplane tour.
You will be required to submit a government registered ID /passport for verification. Make sure to carry one along.
Check the weather forecast before booking your tickets. A hazy day or one with a sand storm can hamper your view.
If you're one to feel nauseous on flights, do inform the authorities before getting onboard.
You are required to report 45 minutes prior to departure time of the flight.
Timings are strictly adhered to, especially for shared Seawings tours, so make sure you arrive well in advance and you could always speak with the staff to get the lowdown before this remarkable activity.
Seaplane Seawings Dubai Tour Price
Tickets are free for infants aged 2 years and below and those from 2 to 12 years of age can enjoy discounted rates.
Buying tickets online is a safer bet in order to secure guaranteed tickets.
UAE residents can enjoy a significant discount on their tickets. This is applicable only on onsite purchase.
You can organise a private charter or shared tour, you have the option! While the shared tour works out more economical, a private charter promises utmost luxury. Check the website to see which flight suits you and then book as soon as possible, so you do not miss out!
If you are looking to bring your children on a trip, it is safe for children of all ages and actually highly recommended, due to the flight being so amazing!
How to Find the Location
Operating Hours are from 9:00 AM to 6:00 PM daily.
There are 2 main departure locations in Dubai – Mina Rashid and Jebel Ali Beach Hotel. We flew from Jebel Ali Beach Hotel and it was very easy to access from Dubai, only 25 minutes from Dubai Marina.
The Jebel Ali destination is below:
Best Time of the Year
I know a lot of you will be thinking about this being in Dubai but since the Seawings Dubai charter is a Cessna aircraft that is covered and climate-controlled, the weather outside does not make a difference to one's experience.
However, Dubai being a desert, there is a chance of a sandstorm that can be more likely in the winter months, hence checking the weather report for visibility rates is advisable.
Winter time also has fog during the morning hours, hence why you should opt for an afternoon slot during the months from November to February. In short, the Seawings Dubai experience is enjoyable year-round.
Depending on the experience you choose, there are different time slots for departure. While the Snapshot experience departs at 8:30 AM daily, the Scenic Tours depart at 11:15 AM every Friday.
The Silver experiences have flexible timings that allow you to enter anytime within operating hours (9 AM – 6 PM).
For this experience, we'd suggest going anytime between 10AM – 12 PM or 3PM to 5PM, depending on your convenience.
Route of Flight
Here the #p2visitdxb team are showing you the route that the plane takes from the Jebel Ali hotel, where it takes off from the little marina there. This huge map is based in the reception of Seawings next to the hotel. The map below shows you how to enter the hotel premises.
Safety
Q. Are Seaplane rides safe?
Yes, they certainly are!
The Dubai Seawings seaplane tour is treated like any other flight, with rules and regulations adhering to the protocols of the Dubai Civil Aviation Authority. Before take-off, there will be a screening of the in-flight safety demo video. All the seaplane pilots go through a long and rigorous flight training process and have thousands of hours of flying experience. The pilot that we had Rajeev, was very attentive and made us feel at ease throughout the spectacular flight.
Review on Trip Advisor
The experience was completely mind-blowing & amazing, some breath-taking moments like never before, more than what I expected, flying so close to most of the Dubai's main attractions was fantastic, we're living in Dubai for many years but I must say the best way to explore Dubai's iconic views is by a seaplane, me and my husband had a lot of fun..!!!
Of course, respecting the social distancing norms and preventive measures, I have to give an extra 5 star for that, I super recommend it!!!
Check out our review on Trip Advisor
I would love to come back again with my friends & family, this is something incredible and a remarkable experience.