FLY HIGH ACROSS THE ARABIAN DESERT IN A HOT AIR BALLOON DUBAI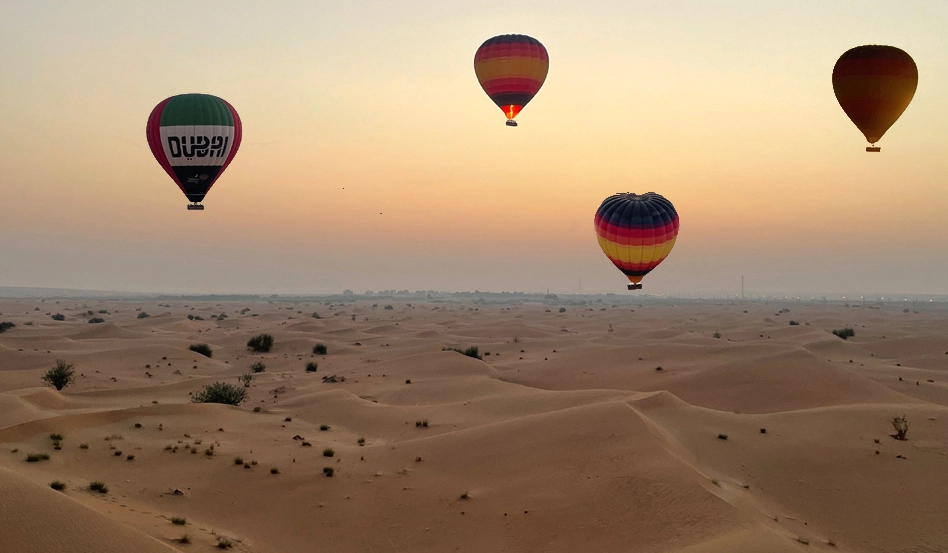 Have you ever wondered what it would be like to fly high like a bird?
We have flown high across the Arabian Desert at a remarkable 4,000 feet above in a hot air balloon Dubai. This was the most tranquil moment of our lives and one that we will forever be grateful for!
If you are looking for a special and memorable moment in Dubai, this activity is the perfect experience for you!
Our Hot Air Balloon Dubai Experience
We were invited to @ballooning_uae to try out this for ourselves and what an incredible experience it was. From being picked up from a local hotel by their own transport and getting off the hot air balloon Dubai spot for some breakfast in the desert, we were blown away with the organisation and delivery of the whole trip.
A few highlights to our trip were:
The open-top vintage Land Rover
Tour guide giving us a run-down of local history and traditions
Flying 4,000ft above the Arabian Desert
Landing of Hot Air Balloon
We started our day early in the morning; the Balloon Adventure team picked up from a local hotel by their own transport and getting off the hot air balloon Dubai spot.
After we reached there; the crew was busy preparing the balloon envelopes and baskets. Once everything was ready, we were given a safety briefing before our flight and gathered around the basket.
The Pilot helped us climb into the basket, and soon after that, we started our incredible experience of floating in the sky.
As we rise in the sky, the colours along the horizon transformed into stunning shades of yellows or orange. We have never witnessed a spectacular sunrise like before with a sight of Arabian oryx and camels from the sky.
The view from the hot air balloon is just incredible it is worth every penny you spend for it.
After one hour flight in a hot air balloon, it was time for landing. Believe us, the landing of the hot air balloon was one of the most exciting moments for us as we have seen the landing of helicopters and aeroplanes before but have never seen the landing of the hot air balloon.
Before landing, we were informed by our Pilot well in advance to buckle up a few minutes before the hot air balloon touched the ground.
Once we landed, they took us to our next adventure, where we got into vintage Land Rover and reached a Heritage camp at a Royal desert retreat.
Here we took a camel ride through the desert near Heritage Bedouin Camp, had breakfast, and relaxed in traditional Majilis.
A Little Bit About Balloon Adventures Dubai
Balloon Adventures Dubai, which is part of the Hero Experiences Group, was named World's Leading Balloon Ride Operator at the World Travel Awards (WTA) 2020. This demonstrates the sheer class and quality from their experiences and we can see them winning many more awards with this tour.
Balloon Adventures Dubai provides an unforgettable and luxurious hot air balloon ride over the Arabian desert in the United Arab Emirates. The beautiful desert hosts a unique landscape for hot air ballooning in Dubai.
As the longest operating balloon company in the UAE, they are the experts in flying in Dubai and ensure that your once-in-a-lifetime experience is the jaw-dropping experience that you want. Since 2005 they have flown hundreds of thousands of guests, developed world-first safety measures (As shown on the Ballooning.ae website).
Hot Air Balloon Dubai Price And Flight Duration
Ballons Adventures offers various experiences and the price of a hot air balloon depends on the option you choose. The starting price of the hot air balloon in Dubai is AED 1000 for a child and AED 1250 for an adult.
The Overnight Desert Safari and Sunrise Hot Air Balloon ride is a once in a lifetime experience, that is treasured a one of the most incredible trips in the Platinum Heritage armoury.
This is the trip that we experienced and it was so amazing! Prices are 2100 AED for adults and 1750 AED for children (Prices based on the two experiences together).
We can assure you that boarding a hot air balloon in Dubai over the desert is worth every penny. Once you experience it you will rave about the hot air balloon experience, especially when enjoying the breathtaking views.
The cost depends on what time it is and whether it's peak season. However, the hot air balloon flight duration is usually around 1 hour.
Hot Air Balloon Dubai Packages
You can choose from one of the best hot air balloon packages and enjoy the breathtaking views of Dubai with Balloon Adventures.
Hot Air Balloon Flight, Vintage Land Rover, & Breakfast
Overnight Desert Safari & Hot Air Balloon Flight
Groups and Events
Private Charters
Proposal
You can enjoy a lot of other adventurous activities in Dubai such as a Seaplane Flight, Gryrocpopter Flight, Skydiving, Dinner in the Sky, Speed boat ride, visiting at the top of the Burj Khalifa and the list continues.
Location
The tour company picks you up from your hotel or a local hotel to your residence and returns you to your pick-up destination.
Review – Highly Recommended
If you are looking for that experience to blow the mind of your nearest, dearest or absolutely anyone, this is the activity to book and enjoy!
We have never been in a hot air balloon before but this was truly one of the most exciting and exhilarating experiences of our lives. There was even a proposal on our flight – looks extremely romantic.
Go and create the best experiences with whoever you choose to live this wonder with you, it will create the truly most amazing memories for you to cherish forever.
Contact Info
Website: https://www.ballooning.ae
Phone: +971 4 440 9827 / +971 5442 54995
Email: info@ballooning.ae
Offices
BALLOON ADVENTURES EMIRATES LLC, 1303 Control Tower, Motor City, Dubai, United Arab Emirates.