Yoga at Dubai Frame – The World's Tallest Photo Frame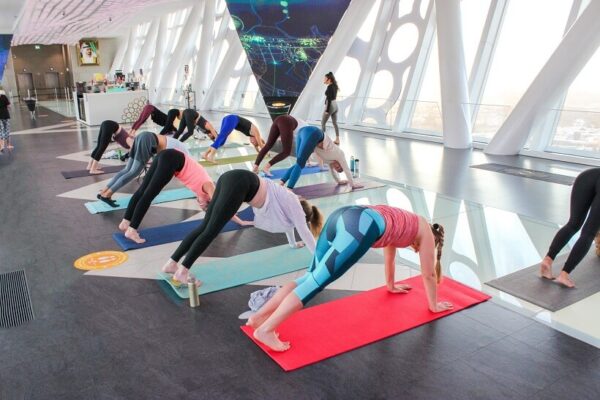 If you are yoga lover and looking for a unique kind of experience for a yoga session then yoga at Dubai Frame is for you.
A 60-minute yoga experience at the top of the tallest photo frame in the world is a once in a lifetime opportunity!
You will get to see old Dubai on one side and new Dubai on the other, whilst performing your best sun salutation over the clear glass flooring.
You will get to witness the sunrise over Downtown Dubai and Sheikh Zayed Road with the sound of only your instructor.
This yoga session is so much more than your usual yoga event, you get another MUST-VISIT tourist attraction in the same package as one of the most chilled yoga sessions.
You may feel sleepy after a week of early get ups, but this is the perfect opportunity to give your weekend the energy that it deserves.
Get there early to be ahead of the other yogis and find that perfect spot to set up and stretch whilst finding your zen.
You need to have your mat down at 6:45am as the sun rises over Dubai, then once the instructor starts the event at 7am, BOOM!
You will feel an energy surge through you like never before, whilst taking in the breath-taking views of Dubai.
Every Core Direction event has epic yoga tunes, with a new genre inspiring your movement each week with some of Dubai's best yoga instructors.
We had the wonderful Amanda for the third event on the bounce and what an amazing instructor she is! @amandayogaflow
Also, take your own mats for cleanliness and safety🧘‍♂️🧘‍♀️
Experience Yoga at Dubai Frame
How to get there & location
Attendees requested to park at Zabeel Park Gate 4 for easy access to Dubai Frame – Directions via map
Check-in at the security office on the entrance at Gate 4 at 06:30 am, once done head to the Frame and follow the security directions.
The session starts at 07:00 am and runs for 60 minutes until 08:00 am and then you can spend the next 30 minutes getting those spectacular photo opportunities of Dubai lighting up from the sun.
Attendees are also required to bring their own yoga mats and sweat towel as per COVID-19 government-issued safety measures.
They will be taking photos and videos of you all and then will send them via email the following day, or if you manage to take any of your own footage, please post to social media and tag: @coredirection, @dubaiframe, and your instructor
Read More Blogs
Facts & Figures of Dubai Frame
You can see old Dubai and new Dubai from it.
Burj Khalifa is viewable from the frame
Dubai Frame measures 150 metres high and 93 metres wide.
Over 9,900 cubic metres of reinforced concrete, 2,000 tons of steel and 2,900 square metres of laminated glass were used in its construction.
More than 15,000 square metres of gold-coloured stainless steel covers Dubai Frame, which incorporates a ring design inspired by the Expo 2020 Dubai logo.
Dubai Frame's rectangular design was inspired by the 'golden ratio' of 1.618, which many architects and artists believe forms an ideal structural balance.
The elevator to the Sky deck carries visitors 48 floors in 75 seconds.
Price for Yoga at Dubai Frame
The Dubai Frame yoga class is charged at 149 AED per class, this really represents an amazing value for money.
To visit Dubai Frame as a usual price, you are looking at a minimum of 210 AED, a huge difference in price and you are getting more of an experience with Core Direction.
You would really struggle to find anything on this level of amazingness for that much of a low price! Plus, you get to see a new wonder of Dubai.
Timings
Events are run by Core Direction's team of resident yoga gurus every Wednesday morning from 07:00 am-08:00 am.
If you are unable to make that midweek session, then there are many other locations that you can take advantage of.
We got to experience the Wednesday morning yoga class and it really set us up with a great start to the day and lead up to the weekend (Highly recommended).
This really does sound too good to be true, but it is even better than the explanation, I am getting butterflies thinking about when we did it yesterday.
Info about Core Direction
The Core Direction wellness platform & app provides social interaction, physical activity & mental focus to deliver a programme that brings the workplace together, builds team spirit & camaraderie, and improves the overall quality of fitness, health & wellness (www.coredirection.com)
All booking of events are accessed through the app, it really is an easy process from the start of booking to the end of the yoga session, if you have any questions, then the kind staff at @coredirection will help to assist you.
Covid Regulations
Security are on site at the entrance from the car park to the top of the Frame, if you are driving or in a taxi, you will need to have your booking ready to show if they ask on the app. They didn't ask us but they did to our friends. Temperature checks will be done on the entrance to the mall and then you will be directed to the lifts.
Attendees are required to bring their own yoga mats and sweat towel as per COVID-19 government issued safety measures, this is to maintain the highest levels of cleanliness and will keep you protected.
Other Dubai locations to undertake, for some awe-inspiring yoga with Core Direction
As you can see, we have done Dubai Opera, Burj Khalifa, Green Planet and Dubai Frame Core Direction yoga sessions so far and we have loved every minute of each one.
We highly recommend them all and will be trying the other ones very soon, keep an eye out.