Experience ​Backyard Cinema Project in Dubai this New Year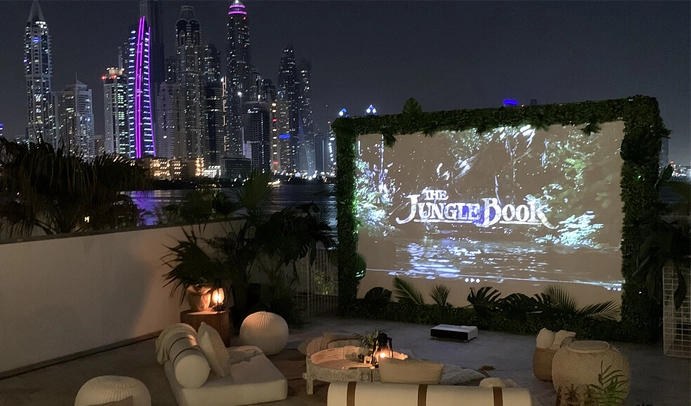 While it looks like staying in is the new going out, it doesn't mean that enjoying the experience of the cinema is off the cards.
Backyard Cinema Project believes there really is no place like home when it comes to appreciating the magic of the silver screen. ​ ​
They will transform your garden into either an old-fashioned picture house or a Boho Chic vibe. They specialise in immersive experiences that will dial the nostalgia levels to 11, including special meet and greet characters from the feature films.
What could be better than a cozy night under the stars with your loved ones!
Patrick & Anya the #p2visitdxb team, treated their friends to an evening of their dreams!
Location
You decide on the location of your Backyard Cinema!
We decided to hold it at one of our friend's villas and its was perfect. Everything was set up by 4:30 pm and the showing started at 6 pm.
We were very fortunate to have the real-life Santa to come and welcome our friend's daughter and we all had our photo with him.
Pricing
We went for the Christmas movie night, as we were feeling extremely festive plus it was the 9th of December. We highly recommend this package, as it provides value for money and the whole experience is one that made the evening perfect.

A few photos from our collaboration
The whole group creating some treasured memories and all having a good laugh at a few moments in the chosen film (Elf).
Contact Details
If you are thinking about booking and treating the family/friends to a film night or all chip in, then get in contact with them and build the perfect evening.
It is an all-round event, that can be catered for birthdays, special events and so much more.
Get in touch today!
Tel: +971 58 877 6330
bookings@backyardcinemaproject.com
Follow on Instagram – @backyardcinemaproject
Website: www.backyardcinemaproject.com