Tips for Visiting Burj Khalifa for the First Time
Travelling is that fun which leaves you the cherished memories and to remember those moments you need to plan, especially when you are visiting Burj Khalifa in Dubai which is one of the most glitzy cities of Gulf.
I guess you got a clue which city I am talking about right? Yes! It's Dubai.
The city of grandeur and majestic architecture such as Burj Khalifa, Burj Al Arab, Palm Island, Dubai Aquarium, The Dubai Mall, Mall of Emirates, Palm Jumeirah and so the list goes on.
One needs to refer many websites just to get the required information and when that becomes time-consuming we simply hate it.
So at that very moment, I decided to write an informative blog post on the tallest building in the world including Burj Khalifa tickets price, best time to visit, world's highest restaurant, Dubai fountain and observation decks.
Visiting Burj Khalifa
The Burj Khalifa has two observation decks which not only provide a breathtaking view of Dubai but also offer great photographic opportunities for its visitors.
At the Top
At the Top Sky
Now, you must be thinking what is the difference between these two observation decks?
| | | |
| --- | --- | --- |
| | At The Top | At The Top Sky |
| Level | 124+125 | 124+125+148 |
| Ticket Price | Starting from AED 57 | Starting from 378 AED |
View from Burj Khalifa
For these observation decks, tickets are offered according to the visiting hours such as prime hours and non-prime hours.
If you want to avoid the rush and save on tickets, plan your visit during non-prime hours and weekdays.
Else, you can plan your visit during prime hours which is 15 pm to 18 pm to get a breathtaking view of a sunset which is worth of every penny you spent.
While visiting Burj Khalifa make sure you have at least 2 hours to explore because sometimes it takes more time due to the long queues and prime hour rush.
Well, there's one thing you need to keep in mind that the last entry is allowed 45 minutes prior to closing time.
So I recommend you should purchase tickets before prime hours start; as your ticket defines only entry time not the exit time, so you stay up as long as you want. *Prime hours are subject to change
Best Time To Visit Burj Khalifa
If you are visiting Burj Khalifa for the first time then you might feel you are dreaming due to it's appealing architectural beauty.
So it doesn't matter which time you choose to visit the majestic place in Dubai.
Most of the people prefer to visit the place before sunset as the view from the observations decks is extremely stunning and amazing.
Here is the glimpse from the Burj Khalifa: A Falcon's Eye View, which allows you to see Dubai from a bird's eye perspective.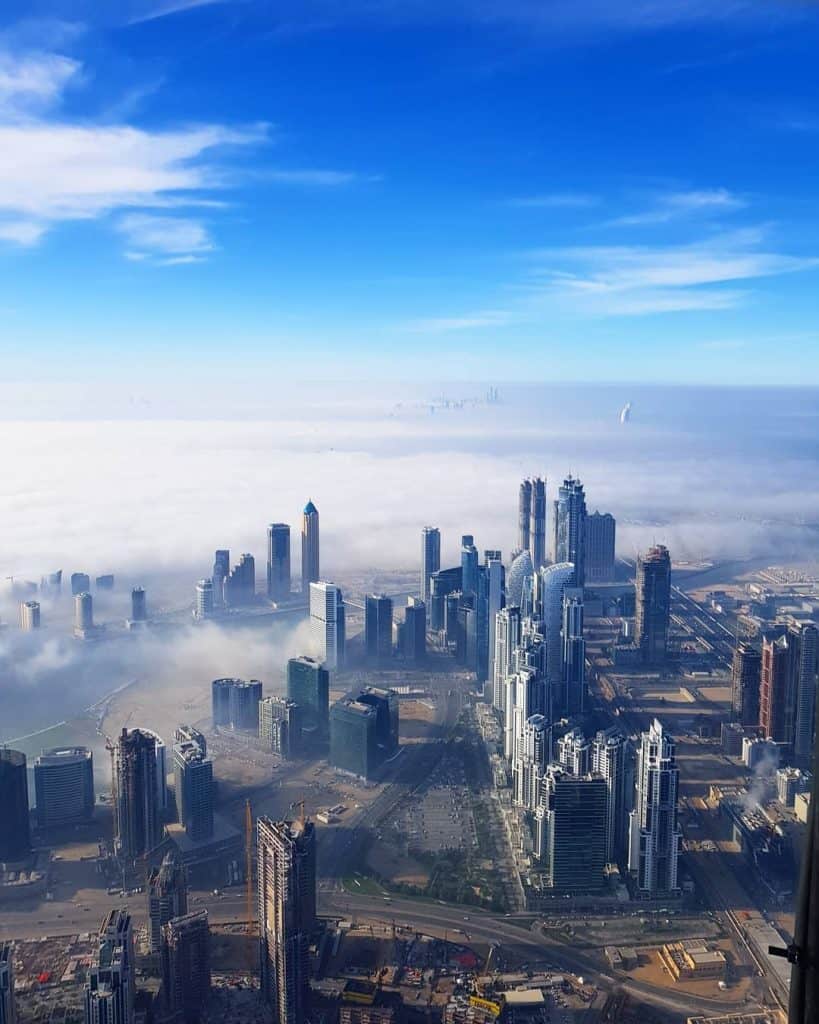 Another fact to this story is you can see the sunset twice from Burj Khalifa.
How?
Once from the lower floor and the second time from the observation deck.
However, sunset occurs just once but the skyscraper's height makes it looks like it's happening again.
However, if you want to know the best time to visit Dubai weather-wise, I would recommend the winter season which is from the month of November to March.
Where To Buy Burj Khalifa Tickets?
Make sure that you book the tickets online to save big and avoid the last-minute rush.
Buying tickets from the entrance counter at the lower ground of the Dubai Mall can cost you nearly 4 times of the online price and in some cases, it could be sold out too.
That is why I suggest buying Burj Khalifa tickets from deals based website to avail huge discount.
There are many websites from where you can buy tickets but I recommend buying tickets from Klook.com, and GetYourGuide.com as they are the authorised ticket seller, reliable and convenient.
Here is the list of deals available to book tickets for Burj Khalifa at the cheapest price as compared to the pricing listed on the official website:
Offers on Burj Khalifa Tickets [2020]
To know more about the online tickets and Burj Khalifa entry fee visit the official website: At The Top, Burj Khalifa
Dine at World's Highest Restaurant
Once you have visited the observation deck now you can go to the world's highest restaurant "At.mosphere" which is located on the 122nd floor in Burj Khalifa.
Of course, the food is not from the other world but yes the view from this restaurant is certainly eminent from the world's highest restaurant 442m in the Burj Khalifa.
However, to experience the best view of Dubai from the restaurant, request a window table.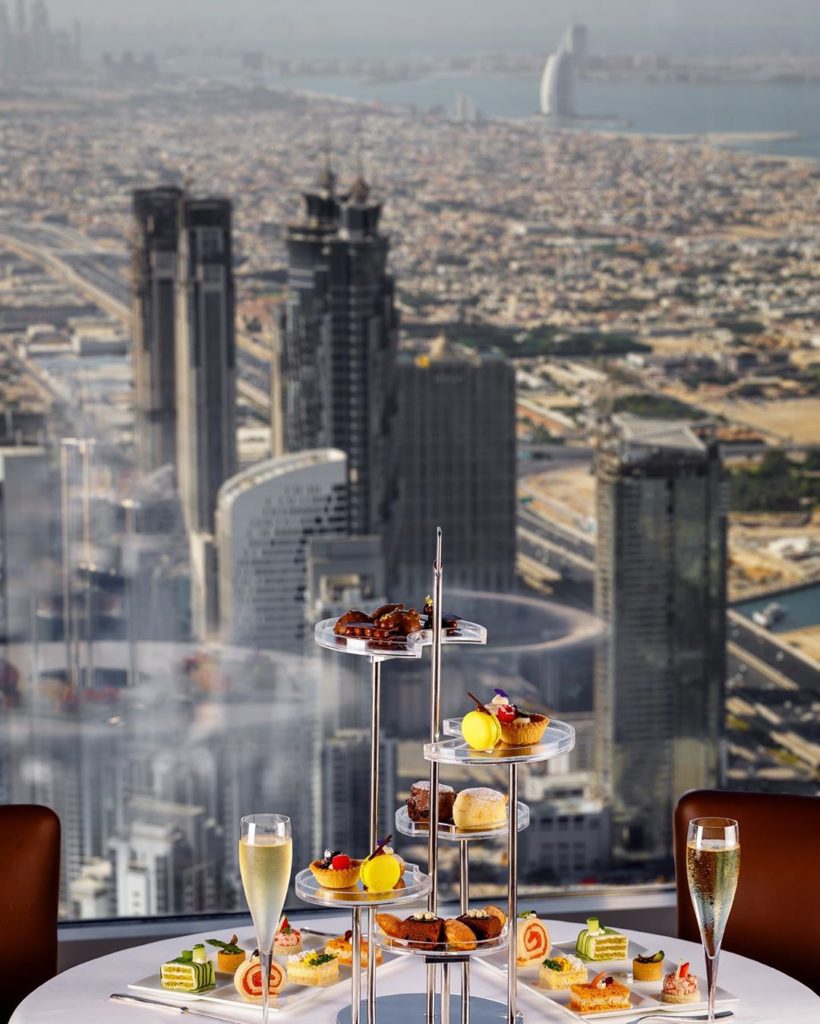 Below are some of the rates if you wish to have breakfast, lunch or dinner at this stunning restaurant.
Breakfast – Minimum spend of AED 200 per person. 50% discount for children aged 5-10 years, free for children under 5.
Lunch – Minimum spend of AED 600 & AED 450 per person for a window table and non-window table respectively.
Dinner – Minimum spend of AED 880 & AED 680 per person for a window table and non-window table respectively.
The Dubai Fountain
Dubai's downtown fountain is another exotic location to visit, the fountain spectacularly set in the giant lake against the majestic Burj Khalifa.
Water slowly wobble as a belly dancer, arcs like a dolphin and rise as high as 152.4 m in the air, the fountain is synced to classic Arabic and popular world music soundtracks played on digital speakers.
Catch the action every 30 minutes from 6:00 pm until 11:00 pm every day.
How Tall Is The Burj Khalifa?
You know the old saying, "A picture is worth a thousand words".
So, I decided to show you an image of Burj Khalifa inform of image in comparison with other skyscrapers in the world.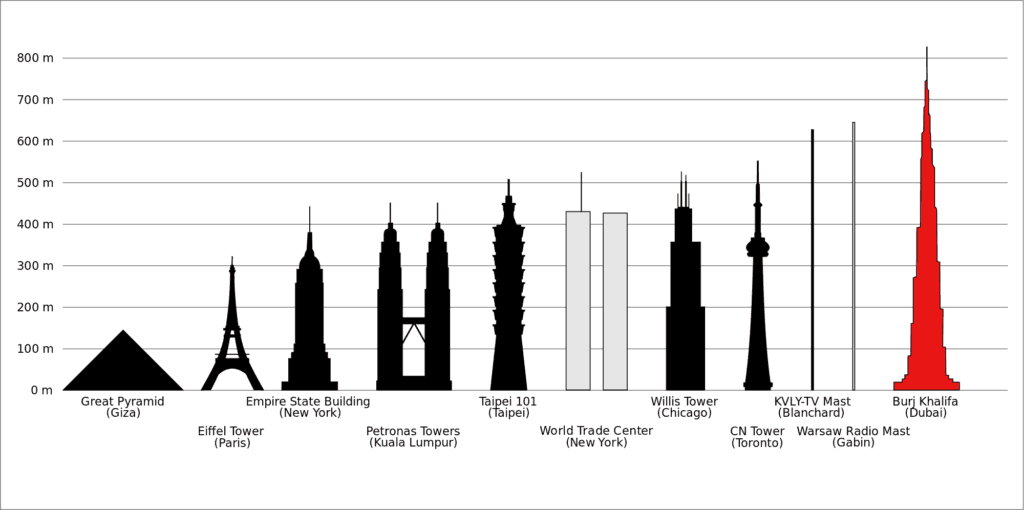 Top 10 Facts About Burj Khalifa
The skyscraper holds many world records but I have listed a few below:
It is one of the tallest building in the world with a height of 829.8 m (2,722 ft)
The building is renamed from Burj Dubai to Burj Khalifa
It has a total number of 57 elevators and 8 escalators
Elevators with the longest travel distance in the world
It holds another record as world's highest observation deck on the 148th floor
Highest nightclub in the world
The highest restaurant in the world
The top of Burj Khalifa can be seen from up to 95 km away
Tallest freestanding structure
The highest number of stories in the world
Have questions or enjoyed the blog posts? Either way, I'd like to hear from you. So go ahead and leave a comment below.